May 24, 2021
WACKADOO! BLUEY IS BACK
BBC STUDIOS AND DISNEY STRIKE GLOBAL
BROADCAST DEAL FOR A THIRD SEASON OF THE HIT SERIES BLUEY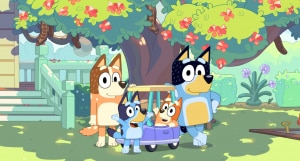 Images: https://bbcw.box.com/s/ji22tfwxhdjokpvkmqj1w8eefn8ucmdc
BBC Studios and Disney announce that a third season of the multi-award winning series Bluey will premiere globally on Disney Channel, Disney Junior, and Disney+ in all territories outside of Australia, New Zealand, and China. This announcement comes after two successful seasons of the hit show on Disney, winning over the hearts of families across the globe with its warmth, humor, and authentic depiction of contemporary family life.
Created by Joe Brumm and produced by the Emmy® award-winning Ludo Studio for the Australian Broadcasting Corporation and BBC Studios, Bluey follows a lovable and inexhaustible six-year-old Blue Heeler puppy who lives with her dad, mum, and four-year-old little sister, Bingo. In every episode, Bluey uses her limitless Blue Heeler energy to play and turn everyday family life into extraordinary adventures. Bluey has proven to be a genuine co-viewing experience, bringing the whole family together to enjoy the show, while delivering impactful and poignant moments for every generation.
Bluey is now available in over 60 countries and is quickly becoming a global hit. In its home market of Australia, Bluey is the #1 show on ABC's iView, generating over 480 million plays across season one and two since its launch in 2018.*  In the U.S., across Disney Junior and Disney Channel in Q1 2021, Bluey was the #3 most watched TV series with kids 2-5.** Across digital platforms, Bluey has been the #1 series in the DisneyNOW app in video starts for the last 50 consecutive weeks*** and Bluey content has garnered 600M views to date on YouTube.****
Jane Gould, Executive Vice President, Content Research, Insights & Scheduling, Disney General Entertainment said, "The relatable, heartfelt and humorous storytelling in Bluey continues to captivate our young audiences and their families. We can't wait to bring a third season of the show to our viewers across the globe."
Henrietta Hurford-Jones, Director of Children's Content at BBC Studios said, "Our continued partnership with Disney in bringing Bluey to families across the world is a reflection of our shared passion and love for this wonderful, heartfelt series. We look forward to continuing to give audiences a truly authentic look at a contemporary family and their friends, bringing warmth and humor to daily life."
Charlie Aspinwall, Executive Producer for Ludo Studio added, "We are really excited that our brand new season of Bluey, currently in production, will be coming to Disney. Season three will bring us more fun and games at home with the Heelers and out and about with Bluey and Bingo's friends."
As well as winning audiences worldwide, Bluey has scooped up multiple awards, such as the International Emmy® Kids Award in the prestigious Preschool Category in 2020, and its second AACTA Awards for Best Children's Program that same year. The accolades continue in 2021, with Bluey winning four Kidscreen Awards in February.
Jointly commissioned by BBC Studios & ABC, Bluey is produced by Ludo Studio in association with Screen Queensland and Screen Australia.
– Ends –
For more information, please contact:
Laura Paez
Communications Manager, BBC Studios
(305) 461-6971
Alison Grand
Grand Communications (on behalf of BBC Studios)
212-584-1133
Alison@grandcommunications.com
NOTES TO EDITORS
About BBC Studios
BBC Studios, a global content company with bold British creativity at its heart, is a commercial subsidiary of the BBC. Able to take an idea seamlessly from thought to screen and beyond, its activities span content financing, development, production, sales, branded services, and ancillaries across both its own productions, and programs and formats made by high-quality UK independents. Award-winning British programs made by the business are internationally recognized across a broad range of genres and specialisms, with brands like Dancing with the Stars/Strictly Come Dancing, Top Gear, Doctor Who and Bluey. BBC Studios has offices in 22 markets globally, including ten production bases in the UK and production bases or partnerships in a further nine countries around the world. The company, which ordinarily makes around 2,500 hours of content a year for both the BBC and third parties including Apple, Amazon and China Mobile, is a champion for British creativity around the world. It is also a committed partner for the UK's independent sector through a mix of equity partnerships, content investment and international distribution for program titles. To the BBC, BBC Studios contributes both cash dividends and funds for program-making, supporting the license fee and enhancing programs for UK audiences.
In the Americas, BBC Studios – with team members across the region – manages joint venture relationships with AMC Networks for flagship channel BBC AMERICA (U.S.) – home of original series Killing Eve and global brands Seven Worlds: One Planet, Doctor Who, and Top Gear – and with ITV for SVoD service BritBox (U.S./Canada), as well as strategic partnerships in Canada with Blue Ant Media for BBC Earth Channel and Corus for BBC Canada. The company also operates a robust linear and digital content sales and co-productions operation, as well as a franchise management business.  In addition, BBC Studios operates its major production unit in Los Angeles and is responsible for ratings juggernaut and Emmy®-nominated Dancing with the Stars and multi-award-winning Life Below Zero.  In Brazil, through a production partnership with Endemol Shine, local production Dancing Brasil has become a breakout hit.
Follow us on Twitter:  @BBCStudiosUSPR
About Ludo Studio
Ludo Studio is a multi Emmy® and Logie award winning Australian studio that creates and produces original scripted drama, animation and digital stories that are authored by incredible local talent,
distributed globally and loved by audiences everywhere.