November 3, 2021
THE ALL-NEW LANDMARK SERIES THE MATING GAME LAUNCHES NOVEMBER 21 ON DISCOVERY+
From The Team Behind A PERFECT PLANET, The 5-Part Series Features Sir David Attenborough As Narrator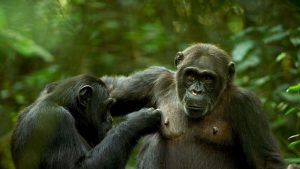 (NOVEMBER 3, 2021 – NEW YORK) In the animal kingdom, there is a challenge that unites all animal life on Earth – one that allows them to pass on their genes to the next generation and continue life's precious cycle. It is nature's ultimate quest — the pursuit of a mate. From the producers behind the award-winning blue-chip natural history series, A PERFECT PLANET, and with narration by Sir David Attenborough, the all-new five-part landmark series, THE MATING GAME, explores the most intimate details of life from every corner of the globe to reveal how animals overcome the challenges of their worlds to reproduce and leave a lasting legacy.
THE MATING GAME launches Sunday, November 21 on discovery+ with the first two episodes, followed by new episodes dropping weekly on the streaming service. In addition to watching the series on discovery+, viewers can join the conversation on social media by using the hashtag #TheMatingGame. Follow Discovery on Facebook, Instagram, and Twitter and discovery+ on Facebook, Instagram, and Twitter for the latest updates.
Filmed in 22 countries spanning six continents and featuring 80 unique species captured on film, THE MATING GAME details the remarkably intricate, often dramatic and sometimes comical, ways in which animals begin their courtship and overcome enormous obstacles in the race to win a partner. From the great expanses of the grassland, to the deep ocean and tangled jungles, each episode captures the compelling efforts from across the Animal Kingdom that highlight how ruthless and unpredictable the 'mating game' can be.
The privilege of reproduction is one that many are willing to pay with their own lives and animals will go to extraordinary lengths in their desire to mate. Whether it be through thoughtful gestures, displays of power, deception or flamboyance, these interactions result in some of the most stunningly unique and shocking spectacles of wildlife on Earth.
Among mating ritual firsts captured on camera include the courtship rituals of the Great Argus Pheasant, a bird renowned among naturalists but whose courtship has never been filmed in the wild due to its extremely reclusive nature. Other firsts include an extremely rare tree frog breeding event captured in a remote patch of virgin rainforest in French Guiana on Christmas Day, as well as the fascinating and somewhat tender courtship behavior between digger bees in the Sonoran Desert that includes everything from a 'bee brawl' to a delicate tasting of each others scent.
In the Serengeti, a violent game is played when a Zebra  stallion must defend his mares in a herd 30,000 strong, and rains in South Africa trigger intense clashes between an army of African Giant Bullfrogs. Meanwhile, the never-before-filmed display of the Argus pheasant in Borneo's rainforest offers a much more delicate approach to the mating game.
For all who choose to play THE MATING GAME, they'll need to flaunt what they got for a chance at seducing a mate and securing a lasting legacy. Navigating the mating season can be daunting for many eligible animals — this is nature like you've never seen and these animals are ready to get it on.
THE MATING GAME is produced for BBC, Discovery, and discovery+ by Silverback Films in co-production with NHK, bilibili, and France Télévisions. For Silverback, Jeff Wilson is series producer and Keith Scholey is executive producer. For Discovery and discovery+, Howard Swartz is executive producer. BBC Studios is distributing internationally.
About discovery+
discovery+ is the definitive non-fiction, real life subscription streaming service. discovery+ features a landmark partnership with Verizon that gives their customers with select plans up to 12 months of discovery+ on Verizon. discovery+ has the largest-ever content offering of any new streaming service at launch, featuring a wide range of exclusive, original series across popular, passion verticals in which Discovery brands have a strong leadership position, including lifestyle and relationships; home and food; true crime; paranormal; adventure and natural history; as well as science, tech and the environment, and a slate of high-quality documentaries. For more, visit discoveryplus.com or find it on a variety of platforms and devices, including ones from Amazon, Apple, Google, Microsoft, Roku and Samsung.
Promo | The Mating Game
Link: https://vimeo.com/641246044
Password: TMG_d+
Download: https://spaces.hightail.com/receive/n0VTKm4wCg
YouTube Link: https://youtu.be/j2krA-fnVyw
Embed: <iframe width="560″ height="315″ src="https://www.youtube.com/embed/j2krA-fnVyw" title="YouTube video player" frameborder="0″ allow="accelerometer; autoplay; clipboard-write; encrypted-media; gyroscope; picture-in-picture" allowfullscreen></iframe>