September 23, 2022
Sky Hopinka's Kicking the Clouds and Rob Roth's Blondie: Vivir en la Habana named winners of BBC Reel LongShots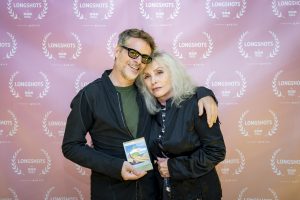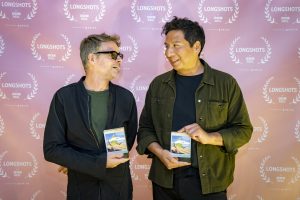 23 September 2022: BBC Reel announces Sky Hopinka's Kicking the Clouds as the Jury Award winner and Rob Roth's Blondie: Vivir en la Habana as the Audience Award Winner of the third annual LongShots Film Festival, the BBC's signature online festival dedicated to emerging documentary filmmakers. This year, the festival is exclusively sponsored by Delta Air Lines in the US. The shortlist featured six international short films nominated by festival partners Tribeca, Berlinale, Giornate degli Autori, Hot Docs, Vision du Réel and Sheffield DocFest. All six films, centered around this year's theme of redefining and reframing 'Journeys', are available to watch for free on bbc.com/reel/longshots. 
In Kicking the Clouds, director Sky Hopinka is given a 50-year-old audio recording of his grandmother's voice, in which she is learning the Pechanga language from her own mother. He decides to delve into his family's history on a road trip across his chosen home in Whatcom County, Washington, where his family still lives, far from their homelands in Southern California, yet a home nonetheless. 
The winning film was selected by an international jury of industry luminaries including rising star of American arthouse cinema Courtney Stephens, this year's winner of the grand jury prize in World Cinema Drama at Sundance Alejandro Loayza Grisi, US film critic and writer Jourdain Searles and director of the acclaimed 'Fire of Love' Sara Dosa. 
Jurors applauded Kicking the Clouds for its "unique sensitivity and cinematographic exquisiteness" and for the way it "gently captures the intergenerational transmission of both knowledge and suffering." 
Blondie: Vivir en la Habana received the LongShots Audience Award, a prize given to the highest voted film by audiences across the globe. This year, thousands of people participated in voting for their favorites from September 8 to September 19.  
Blondie Vivir en la Habana follows a colorful and exciting time when Blondie's iconic lead singer Debbie Harry, at 75, fulfilled her dream of travelling to Cuba and playing in Havana with local musicians. In this kaleidoscopic and sensorial journey, the filmmakers explore the elements of fire and water, and the energy of two cities, New York and Havana and take audiences on an adventure with one of the greatest rock stars of all time. 
Seeking Aline, directed by Rokhaya Marieme Balde, received a special mention by the jurors for its "bold experimentation with biographical form and its sensitivity to character in the cinematic sense and also in terms of political courage". 
The winning films were celebrated with a live screening and reception at the historic Metrograph Theater in New York City on September 21st sponsored by Delta Air Lines. Debbie Harry, lead singer of Blondie, attended the ceremony along with members of the press and New York media. The ceremony host was Daniel Alarcón, MacArthur Fellow, New Yorker writer and professor at Columbia University.  
BBC Reel LongShots was created three years ago by Anna Bressanin, BBC Reel US editor. This year's selection was co-curated by Ana Català alongside Sharon Badal, head of shorts programming at Tribeca; Angie Driscoll, senior shorts programmer at Hot Docs, Rebecca de Pas, member of the selection committee at Visions du Réel; Jamie Allan, special projects and short film programmer at Sheffield DocFest; Anna Henckel-Donnersmarck, head and curator of Berlinale Shorts and Antonio Pezzuto, documentary consultant at Giornate degli Autori. Natalia Guerrero of the BBC is the senior producer.  
For more information, please contact:
Allison Rivellini
Allison.Rivellini@bbc.com 
NOTES TO EDITORS 
About the Sponsorship 
Delta Air Lines is the exclusive sponsor of BBC's LongShots in the United States. As part of the sponsorship, Delta Air Lines will air their latest advertising campaign, 'Odyssey', a short film with a clear message — it's time to explore it's time to take chances and it's time to find inspiration– across BBC.com.  
About BBC Studios 
BBC Studios is a commercial subsidiary of the BBC Group with profits (EBITDA) of £226 million on sales of £1.6bn (21/22). Able to take an idea seamlessly from thought to screen and beyond, its activities span content financing, development, production, sales, branded services, and ancillaries across both its own productions, and programmes and formats made by high-quality UK independents, with three-quarters of its revenues from non-BBC customers including Discovery, Apple and Netflix.  Around 2,400 hours of award-winning British programmes made by the business are internationally recognised across a broad range of genres and specialisms, with brands like Strictly Come Dancing/Dancing with the Stars, Top Gear, Bluey and Doctor Who. BBC.com, BBC Studios' global digital news platform, has 139 million unique browser visits each month. 
About BBC Centenary 
Since its first broadcast in 1922, the BBC has championed storytelling and built a reputation for innovation and quality.  Across TV, radio and online, its output has had a significant impact on broadcasting and society, shaped social attitudes and demonstrated that the BBC has been a constant pioneer from its inception to the present day. As the BBC marks its centenary in 2022 it will mark the occasion with a series of special events and programmes to celebrate the unique role it plays in public life and reflecting its to inform, educate and entertain audiences in the UK and increasingly around the world. 
BBC Studios | Website | Press Office | Twitter | LinkedIn | Instagram |