November 21, 2023
Michelle Obama, Amal Clooney and Melinda Gates call for world leaders
to make "urgent issue" of ending child marriage a priority in exclusive 
interview for BBC 100 Women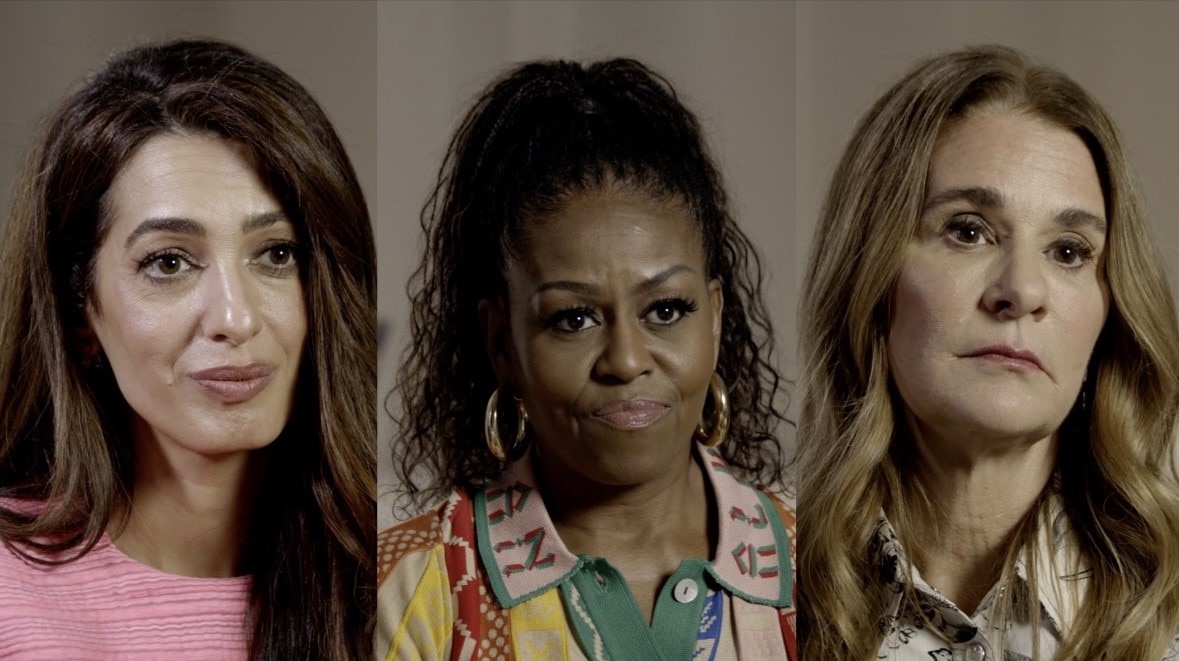 Three of the world's most high profile humanitarians, former First Lady of the United States, attorney and campaigner Michelle Obama, human rights lawyer Amal Clooney, and philanthropist and businesswoman Melinda French Gates, have called on world leaders to make ending child marriage a priority, so it can be eradicated "in less than a generation".
During an exclusive interview with BBC World Service Gender And Identity Correspondent, Megha Mohan, as part of the BBC 100 Women 2023 season, the three women also said that ending child marriage is an "urgent issue", and one that Clooney believes large scale international organisations such as the UN Security Council are currently "not delivering" on.
The BBC were given exclusive access to the trio during their first site visit to Malawi following a collaborative effort launched in 2022 by The Obama Foundation's Girls Opportunity Alliance, the Gates Foundation, and the Clooney Foundation for Justice, aimed at ending child marriage and supporting women and girls in their pursuit of education.
Around the world, more than 650 million women alive today were married as children. Each year, 12 million underaged girls are forced into marriage – a crisis that at the current rate will take over 300 years to fix, says the UN. Climate change is among the factors increasing the risk of child marriage in many countries, including Malawi.
Key quotes from the interview:
Michelle Obama:
"If all the world leaders got together and made it a priority, ending child marriage wouldn't take 300 years, it could happen in less than a generation."
"This is an urgent issue. The health of women and girls on this planet measures the health of our planet."
"We can't afford to ignore this issue and assume that we can make headway on all the other big stuff that we're trying to deal with poverty, climate change, war, and the rest, unless we're doing right by 50% of our population."
"At the core of this is that women are undervalued around the world. And that's a sad statement, you know, that we, we are not valued enough to be researched and studied to be protected."
Amal Clooney:
"Child marriage in particular is the root cause of so many of the biggest problems that we see."
"You have to form alliances and really fight against these kinds of injustices with the determination that it takes to win a war."
"Child marriage in particular is the root cause of so many of the biggest problems that we see, because if a girl is married off at 12, or 13, and we met many of them, who have been, she is more likely not to graduate from high school, she's more likely not to get a job and be economically independent, she's more likely to suffer violence, and she's more likely to have health issues including unsafe pregnancies.
"Large scale international organisations that we have, that are supposed to be dealing with this, like the UN Security Council, like powerful governments are not delivering. And so I think philanthropy then and individual lawyers can play and have to play a larger role."
Melinda French Gates
"This is a solvable problem."
"Not a single girl in the world should ever be married off as a child, not a single one."
"This is a tragic barrier to have today, alive, 640 million girls and women who are the product of a child marriage."
"The rates are coming down when real work gets done. It's really a social norm. It has to be done at the community level. The only way to change social norms is at the community level. You get the community thinking differently about the girls. When you get enough villages standing up and saying, No, then you start to bring the rates down. And that kind of social change takes educating everybody."
The full interview can be watched on BBC News on Friday 24 November at 8:30pm EST and Saturday 25 November at 9:30am and 4:30 pm EST. Clips from the interview as well as the 100 Women 2023 list can be found at BBC.com/100Women.
ENDS
Notes to Editors
What is 100 Women?
BBC 100 Women names 100 influential and inspiring women around the world every year. We create documentaries, features and interviews about their lives – stories that put women at the centre and are published and broadcast on all BBC platforms.
This year's theme is climate change and its disproportionate impact on women and girls around the world, with 28 Climate Pioneers and other environmental leaders selected for this year's list.
Follow BBC 100 Women on Instagram and Facebook. Join the conversation using #BBC100Women.
BBC World Service delivers news content around the world in English and 41 other language services, on radio, TV and digital. BBC World Service reaches a weekly audience of 318m. As part of BBC World Service, BBC Learning English teaches English to global audiences. For more information, visit bbc.com/worldservice. The BBC attracts a weekly global audience of 447m people to its services available internationally, including BBC World Service, BBC News television channel, bbc.com/news, BBC Studios and the international charity, BBC Media Action.
BBC.com is BBC Studios' global digital news platform, offering up-to-the-minute international news, in-depth analysis and features, including BBC Worklife, BBC Culture, BBC Future, BBC Travel and BBC Reel, for PCs, tablets and mobile devices. The BBC News television channel is available in more than 200 countries and territories worldwide. The channel's content is available in millions of hotel rooms, on cruise ships, and numerous airlines.