February 24, 2023
LANDMARK THEATRES AND BBC STUDIOS UNITE FOR THE U.S. THEATRICAL RELEASE OF UKRAINE WAR DOCUMENTARY 'MARIUPOL: THE PEOPLE'S STORY'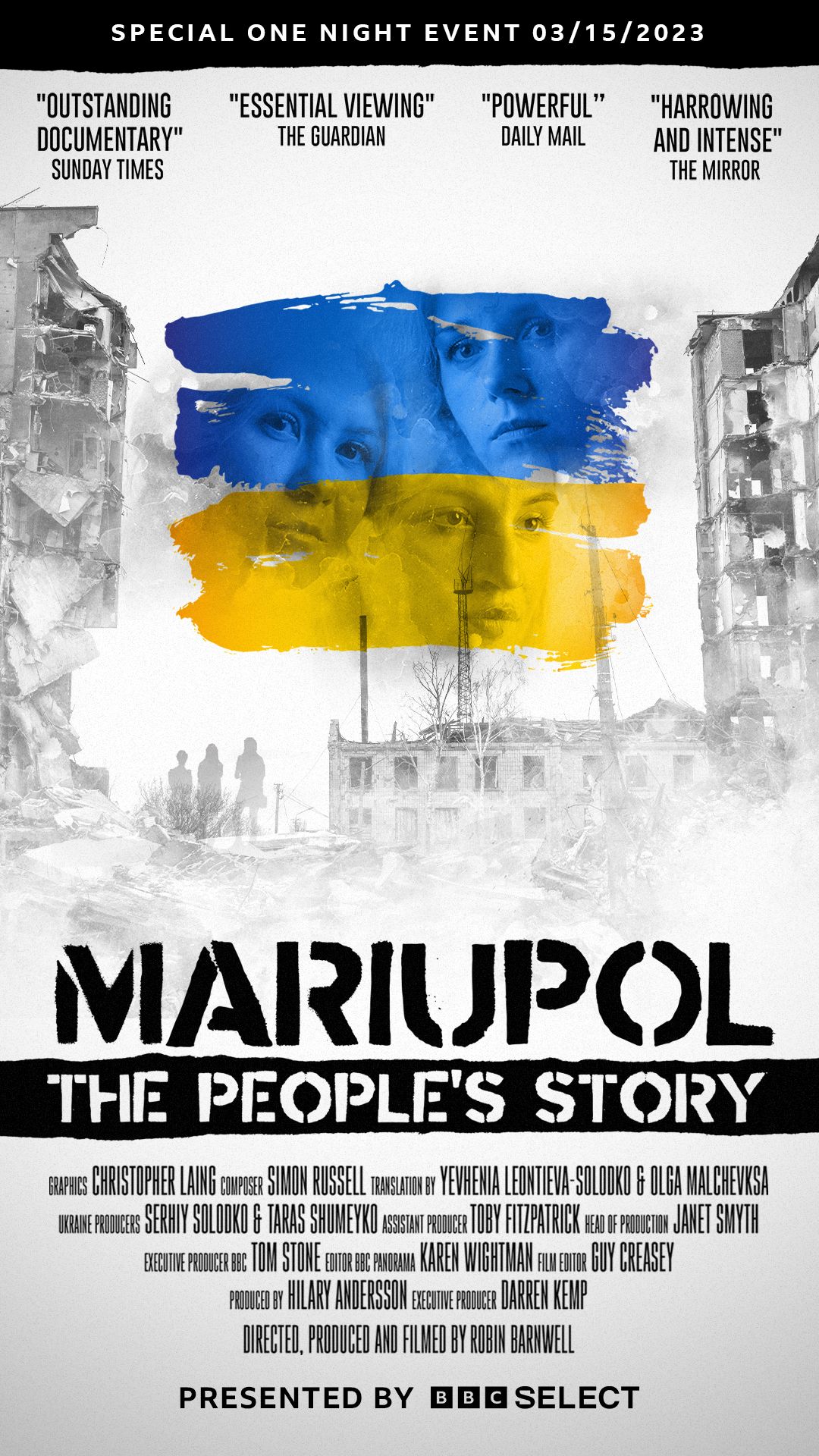 Los Angeles, CA – February 24, 2023 – Landmark Theatres and BBC Studios have united to release the powerful documentary MARIUPOL: THE PEOPLE'S STORY in select theaters across the U.S. The announcement was made today by Landmark President Kevin Holloway, on the day that marks the first anniversary of the start of Russia's war on Ukraine. The film, directed by BAFTA, Emmy and Peabody award winner Robin Barnwell, produced by multi-award winner Hilary Andersson and made by Top Hat Productions and Hayloft Productions, will be shown in eight cities as a one-night event on March 15, 2023.
MARIUPOL: THE PEOPLE'S STORY will be brought to Landmark as a communal experience and to show support for Ukraine and its brave people.
Told and filmed by the people of Mariupol, this is the deeply personal story of the destruction of a modern Ukrainian city. The film follows residents as they film themselves from the start of the Russian invasion to the devastation of their city two months later. Those featured live through the horror of war recording what is happening around them after most international journalists have left. The film is a story of war crimes and suffering but also a story of amazing courage, incredible daring in escape and of undaunted spirit.
Mariupol is a symbol of what has happened to Ukraine. It was a city of 430,000 people and over the course of two months the people living there endured almost constant bombardment. Ukrainian officials estimate more than 25,000 inhabitants were killed. MARIUPOL: THE PEOPLE'S STORY follows residents as they seek safe haven in a theater, treat victims from a bombed maternity hospital and live in underground bunkers beneath the Azovstal Iron and Steel Works.
Director Robin Barnwell has received multiple awards and nominations, including a Peabody, BAFTA, and an International Emmy. He was also named Journalist of the Year at the British Journalism Awards.  Producer Hilary Andersson is an American journalist formerly with the BBC and founder of Hayloft Productions, who has won the Royal Television Society Awards, the Peabody Award, the BANFF Award and multiple other international honors and nominations. The film was executive produced Peabody, BANFF, and three-time Royal Television Society Award- winning Darren Kemp, the founder of Top Hat Productions.
Widely acclaimed, MARIUPOL: THE PEOPLE'S STORY has been hailed as "harrowing and intense" by The Mirror, "grueling and vital" by The Times of London, "essential viewing" by The Guardian and a "must watch" by the Financial Times.
"MARIUPOL: THE PEOPLE'S STORY is a moving portrait of bravery and survival as immediate as tonight's news, and we are proud to bring it, in partnership with the BBC, world-renowned for its trusted reporting and documentaries, to as wide an audience as possible," said Landmark Theatres President Kevin Holloway. "Landmark Theaters is known for bringing theater-goers intelligent, thought-provoking, curated content and what better fit than this special film by Top Hat Productions."
MARIUPOL: THE PEOPLE'S STORY will be shown in the following cities and Landmark cinemas beginning March 15:
New York City, Quad Cinema
Los Angeles, Westwood
Philadelphia, Ritz Five
Chicago, Century Centre
Indianapolis, Keystone Art Cinema
Seattle, Crest Cinema Center
Washington, D.C., E Street Cinema
San Francisco, Opera Plaza Cinema
Abacus Media Rights (AMR), an Amcomri Entertainment company, is the distributor of MARIUPOL: THE PEOPLE'S STORY in global markets excluding the UK and Northern Ireland. This film marks BBC Studios' first exclusive theatrical release with Landmark Theatres.
The film is also available to audiences in the U.S. on BBC Select via Amazon Prime Video Channels, the Apple TV app and The Roku Channel.
About Landmark Theatres
Founded in 1974, Landmark Theatres, the nation's largest specialized theater chain, is dedicated to exhibiting the best of independent and world cinema as well as high-quality mainstream film, in a state- of-the-art environment. In addition to movies, Landmark Theatres provides diverse, curated entertainment content including filmed Music, Sports, and Comedy, plus Gaming, Live Events and Streaming. Landmark is known for historic theaters as well as those with neighborhood charm and contemporary locations with all the latest amenities. Going out is a social, interactive experience, and each Landmark Theatre is part of your local community. We interact and engage with our guests, but most of all, we listen. Landmark Theatres was added to the Cohen Media Group in 2018. Formed in 2008 by Charles S. Cohen, the Cohen Media Group (CMG) is an independent theatrical exhibition, distribution, and production company with over eight Academy Award nominations and a Best Foreign Language film win for THE SALESMAN. CMG releases the world's best in contemporary and classic cinema.
About BBC Studios
BBC Studios is a commercial subsidiary of the BBC Group with profits (EBITDA) of £226 million on sales of £1.6bn (21/22). Able to take an idea seamlessly from thought to screen and beyond, its activities span content financing, development, production, sales, branded services, and ancillaries across both its own productions, and programmes and formats made by high-quality UK independents, with three-quarters of its revenues from non-BBC customers including Discovery, Apple and Netflix.  Around 2,400 hours of award-winning British programmes made by the business are internationally recognised across a broad range of genres and specialisms, with brands like Strictly Come Dancing/Dancing with the Stars, Top Gear, Bluey and Doctor Who. BBC.com, BBC Studios' global digital news platform, has 139 million unique browser visits each month.  
Top Hat Productions is a multi-award-winning production company which focuses on combining high-end documentary production and rigorous journalism. Their productions have won numerous awards, with their latest production Chernobyl: The Lost Tapes winning the Cinema Eye Honours award this year. It was founded by award winning director Darren Kemp who is the executive Producer on Mariupol: The People's Story. Their productions have played and sold in every major territory in the world.
About Abacus Media Rights
Abacus Media Rights (AMR) acquires and distributes a diverse slate of premium, multi-genre programming in the international market. AMR now additionally represents the Flame Media catalogue. At the same time, the company also works with producers to facilitate pre-sales and development finance as well as broadcaster commissions. Embracing a fully transparent reporting ethos throughout, AMR focuses on building strong client relationships and generating positive solutions at every stage of the process, from initial financing to worldwide broadcast in order to successfully deliver scripted and non-scripted entertainment that counts to a global audience. Abacus Media Rights is an Amcomri Entertainment company. Amcomri Entertainment Inc (NEO Exchange Canada: AMEN) (FRANKFURT: 25Y0) (New York OTC: AMNNF). Further details: www.abacusmediarights.com  Twitter: @abacus_rights