November 3, 2023
Introducing Intrigue: Million Dollar Lover – the true story of how an intergenerational, interclass love affair pitted a family and a quiet California beach town against each other
Hosted by BBC journalist Sue Mitchell, the 10-part podcast premieres Thursday, November 23rd
New episodes release weekly on Saturdays; BBC Podcast Premium subscribers have early access to all episodes ad free
Previews available on request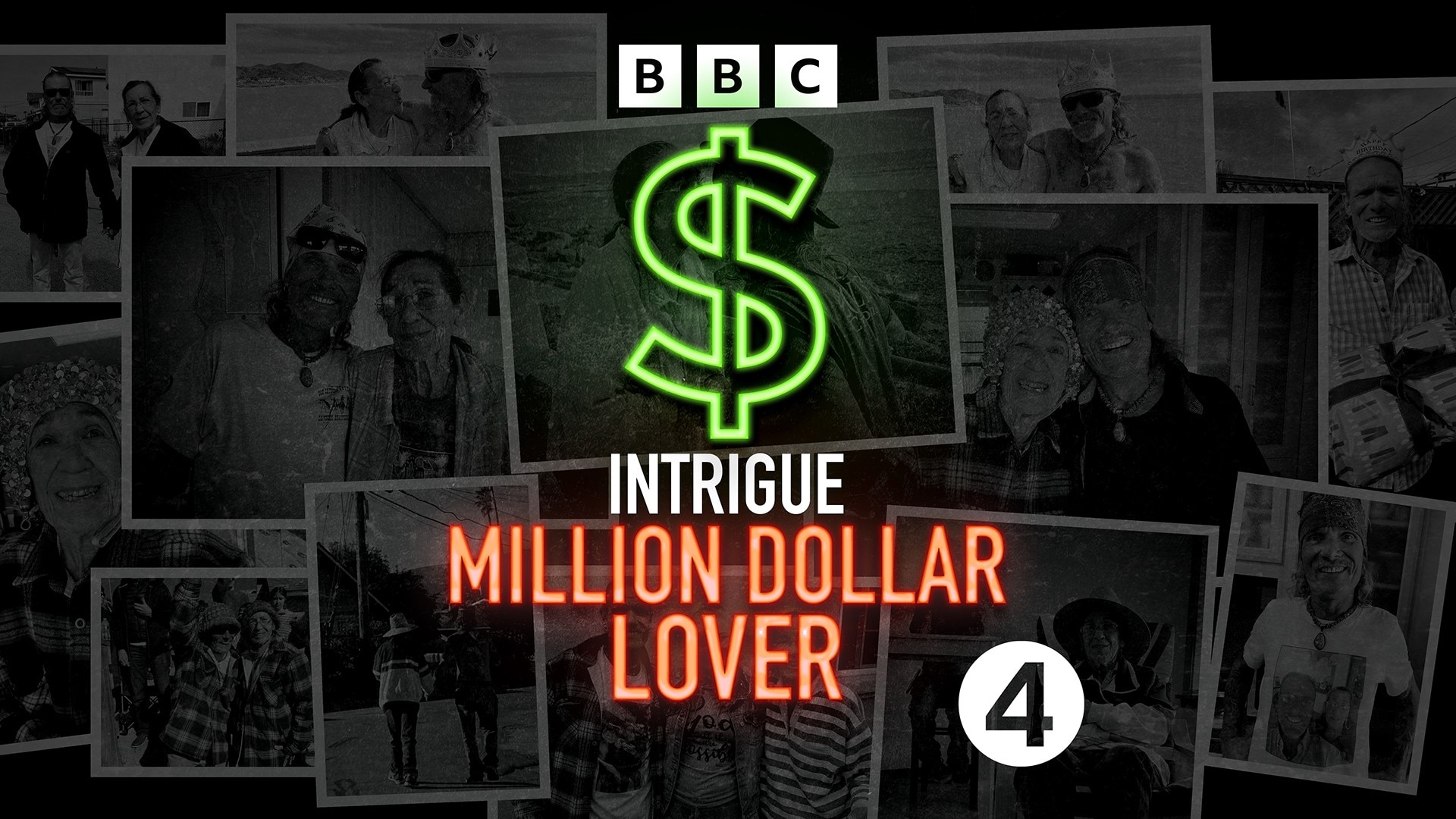 Intrigue: Million Dollar Lover, a new podcast series from the BBC, is an enthralling, investigation  into the shifting American class system, aging and elder relations, and intergenerational relationships through the lens of a love affair between Carolyn, a wealthy widow in her eighties, and Dave, a homeless ex-convict young enough to be her son.  The 10-part series premieres on Thursday, November 23rd on all major podcast platforms, BBC Podcast Premium subscribers will have early access to episodes and listen ad-free.
When Dave arrives in Cayucos – an idyllic beach town on California's Central Coast – he is homeless and looking for work. The local churchgoers point him in the direction of Carolyn, who is 80 and comfortably off. She and her late husband bought and renovated houses decades ago when property was cheap. Now these rentals are worth a few million dollars and provide Carolyn with a good income.  Carolyn is very lonely. Soon after Dave arrives to work for as a gardener and handyman, Carolyn falls in love with him and invites him to move in with her. Her middle-aged daughters and some of locals are deeply suspicious and dead against this match.  A battle to protect Carolyn's best interests – and her finances – ensues as the town of Cayucos looks on.
In this series, Carolyn and Dave's unlikely love story is captured in real-time by their neighbor, BBC investigative journalist Sue Mitchell. While Carolyn's daughters and the town's residents debate the merits of Carolyn and Dave's romance, Mitchell uncovers the sordid secrets and horrors hidden in Dave's past. And, leveraging her knowledge of elder abuse, she exposes how the process of ageing, coupled with loneliness, subtly alters how older people perceive others, particularly strangers who on the surface, appear loving, youthful and kind,
Is Dave really a well-intentioned, changed man seeking a fresh start with Carolyn as he promises, or is he a dangerous interloper who will fleece Carolyn, breaking her heart and her family? And, with income and housing inequality at an all-time high in the US, who is truly entitled to inheritance and to what lengths will people go for it?
Sue Mitchell, award-winning BBC investigative journalist and host of the podcast, says: "Watching Carolyn and Dave's relationship unfold just down the street has been a fascinating study in how we perceive love later in life and inheritance in the US. Through their story, we're better able to understand how we treat the elders in our communities and the innerworkings of inheritance and wealth in this country."
Daniel Clarke, commissioning editor for factual programming, BBC Radio 4, says: "Million Dollar Lover takes us from one of the wealthiest enclaves of America's West Coast to the underbelly of the country's homelessness crisis, and is one of the most remarkable portraits of love and family that I've ever heard – teasing open themes of inheritance, money, class, and community. The honesty and bravery of the contributors is remarkable, and in Sue's extraordinary telling, listeners will have trouble deciding who has Carolyn's best interests at heart – and whether this is a story about second chances later in life, or another tragic tale of deceit and manipulation."
Previews are available upon request, reach out to Marisa Kim (marisa.kim@bbc.com).
Intrigue: Million Dollar Lover is produced by R&M Production, the team behind The Boy in the Woods. The series is Presented by Sue Mitchell and Scripted by Winifred Robinson. The Producers are Sue Mitchell and Joel Moors and Sound Design is by Tom Brignall. Dramatology is by Flo Dessau, the Editor is Philip Sellars and the Commissioning Editor is Daniel Clarke.
-ends-
About Intrigue
First launched in 2017, each series of Intrigue tells a true story in a gripping narrative style, pulling back the curtain on an aspect of how the world works. Previous series include the smash hit Tunnel 29, The Ratline, Burning Sun and The Immortals.