September 29, 2022
FUELED BY RECORD GROWTH, BBC STUDIOS LOS ANGELES PRODUCTIONS EXPANDS LEADERSHIP TEAM, NAMING NICHOLAS OAKLEY SVP, UNSCRIPTED DEVELOPMENT
BBC Studios LA Productions Appoints Executive with 20 Years' Experience and Proven Track Record Creating, Selling and Producing Unscripted Series in the U.S. and the U.K.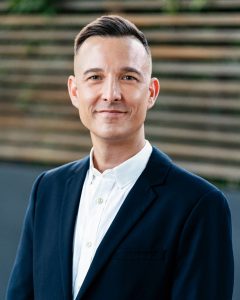 Nicholas Oakley Hi-Res Headshot Available Here
As BBC Studios marks a record year and a massive increase of 56 percent in global production sales, the company announces the appointment of Nicholas Oakley as Senior Vice President, Unscripted Development, Los Angeles Productions in a key leadership role for its U.S. production business which has achieved unprecedented growth over the past two fiscal years (2020/21-2021/22).  The thriving production base has launched 11 new series in the past 24 months with partners including ABC, CBS, FOX, Lionsgate, NBC, National Geographic, Netflix, and Peacock.
September marks a major milestone for BBC Studios LA Productions with the premiere of its powerhouse production Dancing with the Stars as the first live series on Disney+.  On September 29th its trio of scripted comedies launch their new broadcast seasons, Ghosts, which became a #1 break-out hit on CBS, and the popular returning series Call Me Kat and Welcome to Flatch, both on FOX.  All three shows were inspired by British hits and adapted under Senior Vice President of Scripted Development Angie Stephenson.  Ghosts and Welcome to Flatch were developed for the U.S. through BBC Studios' scripted co-production partnership with Lionsgate, while Call Me Kat was developed with Warner Bros. as studio partner.
Oakley joins the company in a new executive role, based on of the production arm's success, under the leadership of General Manager Valerie Bruce. The established production base has a strong unscripted business that includes a partnership with NBC on the hit reboot of the classic game show Weakest Link hosted by Jane Lynch, and a long-term partnership with National Geographic on the Emmy-winning franchise Life Below Zero, which has expanded to four series over the past decade.
"I'm proud to say that our Los Angeles production business has never been stronger: we have developed, sold, produced and launched more new shows in the past two years, than ever before in the 18 years since BBC Studios started production in Los Angeles, building on our slate of iconic and enduring hits like Dancing with the Stars," said Valerie Bruce.  "These results are a direct testament to our team's entrepreneurial spirit, passion and belief in our work. We're making a strategic move to bring on a proven executive who will add valuable expertise to our incredibly talented and creative team."
Oakley's appointment will bolster the team driving the fast-growing unscripted business.  He will report into Ryan O'Dowd, Executive Vice President, Music & Entertainment.  O'Dowd has led the LA unscripted team to develop, sell and produce U.S. adaptations of hit global formats including Weakest Link and When Nature Calls with Helen Mirren, as well as original series including Ex-Rated and Murder Among the Mormons.
In his new role, Oakley will work with the LA unscripted team to conceive and develop original content ideas and build domestic and global formats, leveraging his relationships with U.S. buyers to pitch and sell series, spanning across the entertainment and factual business.
Oakley is adept at creating and selling original unscripted concepts and has experience bringing hit British formats to the U.S., including Hell's Kitchen, Nanny 911, and Celebrity Fit Club.  Having worked extensively in both the U.S. and the U.K. as a network buyer and as a producer / seller, he has a strong background in the international formats market. Oakley has held senior development roles at ITV Studios, MTV, Mentorn USA/Tinopolis, HLN/CNN and Mission Control, and has worked in Los Angeles for the past 17 years.
"I'm thrilled to welcome Nick to our growing team," said Ryan O'Dowd. "Advancing our mission to develop, sell and produce premium content for our broadcast and streaming partners remains our top priority. Nick brings a strong network of long-standing relationships in our business, along with his impressive breadth of experience across multiple genres on the buying and selling side, in both the U.S. and the U.K., which make him uniquely qualified to thrive in this role. Our ambition is to create global hits, and Nick will play a key role as we work to achieve this."
"After beginning my career at the BBC in London over 20 years ago, I'm delighted to be returning to my roots and joining BBC Studios LA Productions at this time of immense growth," said Nicholas Oakley.  "I look forward to working with Valerie, Ryan and the exceptionally talented team to boost the momentum with a whole new wave of big, exciting hits. I can't wait to connect U.S. networks and streamers to the very best content from both sides of the pond and to champion the world-class creativity of our U.K. unscripted team and our indie partners."
Most recently, Oakley was the Head of Development at Mission Control Media where he developed and sold a wide array of game shows and competition series, working with partners including Amazon, CBS, HBO Max, HGTV, Netflix and Paramount+. Prior to that, he ran West Coast Development for the HLN network at CNN where he played a key role in bringing in the network's first slate of original non-news series and overseeing the development of docuseries, prank shows, travel formats and game shows. Oakley led the U.S. office of Tinopolis-owned U.K. production company Mentorn, where he was instrumental in setting up projects at a range of networks, including Food Network, Discovery, Style, CMT and MTV International. As a VP of Development for MTV, he oversaw multiple pilots and series.
Over the course of five years, Oakley worked for ITV Studios first in London where he helped develop BAFTA-winning variety shows, game shows and competition series, and then in Los Angeles, launching U.S. versions of British hits.  Oakley started his career at the BBC, working as a researcher on late night comedy shows and daytime talk shows, and casting contestants on prime time game shows, including Weakest Link.
About BBC Studios
BBC Studios, a global content company with bold British creativity at its heart, is a commercial subsidiary of the BBC. Able to take an idea seamlessly from thought to screen and beyond, its activities span content financing, development, production, sales, branded services, and ancillaries across both its own productions and programs and formats made by high-quality UK independents. Award-winning British programs made by the business are internationally recognized across a broad range of genres and specializations, with brands like Dancing with the Stars/Strictly Come Dancing, Top Gear, and Doctor Who. BBC.com, BBC Studios' global digital news platform, provides up-to-the-minute international news, in-depth analysis and features to more than 139 million unique browsers each month. BBC Studios has offices in 20 markets globally, including ten production bases in the UK and production bases or partnerships in a further nine countries around the world. The company, which ordinarily makes around 2,000 hours of content a year for both the BBC and third parties including Apple, Netflix, and Migu, is a champion for British creativity around the world. It is also a committed partner for the UK's independent sector through a mix of equity partnerships, content investment, and international distribution for program titles.
In the U.S, BBC Studios operates both a distribution business and one of its major production units. The production unit, based in Los Angeles, creates and produces adaptations of UK programs, as well as all new original programs, for linear and digital platforms in the U.S. This production unit is responsible for the phenomenally successful, Emmy®-winning Dancing with the Stars, the multi-award-winning Life Below Zero franchise, the revved up Top Gear America, and the popular reboot of the classic quiz show Weakest Link, among others. In scripted, the team has achieved success adapting British hits, including Call Me Kat (based on the UK format Miranda), Welcome to Flatch (This Country in the UK), and Ghosts for top U.S. broadcast networks.
Follow us on Twitter: @BBCStudiosUSPR | BBC Studios Press Room