October 27, 2021
Emmy® and BAFTA® Award-Winning Actor Sean Bean and Four-time BAFTA® Nominee Stephen Graham Star in
Prison Drama Time, Premiering on BBC First in Canada During its Nationwide Free Preview Event
Authored by Emmy® and three-time BAFTA®-winning writer Jimmy McGovern, the highly-anticipated British drama offers a powerful depiction of prison life
Canadian broadcast premiere airs Monday, November 15 at 9 p.m. ET/PT on BBC First as part of the channel's nationwide free preview event running from November 1, 2021 to January 2, 2022
"Sean Bean and Stephen Graham astound in enraging prison drama."
– The Guardian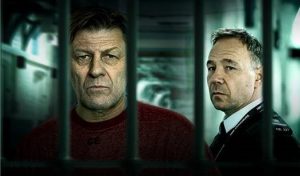 (Toronto, ON – October 27, 2021) – This fall, the hit three-part British drama series Time (3×60'), starring Emmy® and BAFTA® winner Sean Bean (Game of Thrones, Lord of the Rings, Osprey: Sea Raptor) and four-time BAFTA® nominee Stephen Graham (Boardwalk Empire, Line of Duty, The Irishman) comes to Canada on BBC First. Time follows Mark Cobden (Sean Bean), a husband, teacher and father newly imprisoned after accidentally killing a man. Consumed by guilt, he openly accepts his sentence, but is quickly confronted with the harsh realities of life behind bars. There he meets Eric McNally (Stephen Graham), a prison officer who endeavours to protect those in his care, but finds the job can be demanding in a tense and understaffed environment. Both Mark and Eric are faced with difficult choices as they fight for survival. The gritty series is authored by Emmy® and three-time BAFTA®-winning writer Jimmy McGovern (The Street, Cracker, Moving On). The Canadian broadcast premiere of Time airs Monday, November 15 at 9 p.m. ET/PT, exclusively on BBC First, during the channel's nationwide free preview event running from Nov. 1 until Jan. 2 across 8 million Canadian households.
"As we continue to grow BBC First with more premium scripted series, we made the strategic decision to acquire Time because it ticks all the boxes, including notable acting giants, a gripping plotline and a premium high-production-value that audiences come to expect with BBC programming," says Craig Junner, VP, Programming, Canadian Media, Blue Ant Media. "Time received rave reviews when it premiered in the U.K. earlier this year and we believe Canadian audiences are also going to love it. We've scheduled Time to premiere during our free preview window so millions of Canadians across the country can enjoy it."
The three episodes of Time include:
Episode 1
November 15 at 9 p.m. ET/PT
Mark Cobden is consumed by guilt as he begins his four-year sentence at HMP Craigmore prison. Separated from his family, he quickly has to learn how to survive in this new and perilous environment. Mark meets Eric McNally, a caring prison officer doing his best to protect those in his charge. However, when one of the most dangerous inmates identifies Eric's own weakness, he faces an impossible choice; between his principles and his family.
Episode 2
November 22 at 9 p.m. ET/PT
Struggling to stand up to sustained bullying of inmate Johnno (James Nelson-Joyce, The Nest), Mark is presented with the dilemma of either being labelled a grass, or risk violence. Eric does his best to spot trouble for Mark, but faces his own turmoil when his family is put at risk.
Episode 3
November 29 at 9 p.m. ET/PT
Mark suffers a tragic personal loss which is made all the more difficult by his current circumstances. With pressure put upon him from fellow inmates, Mark is forced into a difficult decision which could lead to potentially deadly consequences. Eric faces more pressure as he continues to do what he can to keep his family safe, but the costs of his actions are life-changing.
Time was produced by BBC Studios Productions for BBC One, starring Sean Bean and Stephen Graham. Jimmy McGovern serves as Writer and Series Creator. Tom Sherry and Michael Parke are the Executive Producers. Simon Maloney is the Producer and Lewis Arnold is the Director. BBC Studios is distributing the series internationally.
Time airs Monday, November 15 at 9 p.m. ET/PT on BBC First.
Engage with BBC First: @BBCFirstCanada #Time
BBC First is a Blue Ant Media specialty channel giving Canadians access to a huge lineup of BBC's original, award-winning, and uniquely British programming from drama to comedy, action and adventure, to mysterious thrillers. In Canada, BBC First is owned and operated by Blue Ant Media in partnership with BBC Studios, the commercial arm of the BBC. Visit BBCFirst.ca. Follow us on Facebook: BBCFirstCanada.