September 16, 2020
Doctor Who Expands Presence at NYCC
Panels Feature Doctor Who: Time Lord Victorious And Maze Theory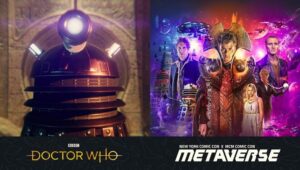 New York, NY – BBC Studios is announcing today two Doctor Who panels at this year's New York Comic Con (NYCC): a spotlight on the making of Doctor Who: Time Lord Victorious and an exclusive look at new games from Maze Theory. These two panels join the already announced Doctor Who spotlight panel from BBC AMERICA on October 8, featuring Jodie Whittaker, Mandip Gill and Bradley Walsh.
On October 10, "The Making of Time Lord Victorious" will see producer and writer James Goss talk about how this ambitious multi-platform project came together. He will be joined by Joe Sugg, Nicholas Briggs, and Ayesha Antoine for a sneak peak of the animated series Daleks!, due to launch in November. Hear more from the cast about what fans can expect, the roles they play, and how they filmed their voiceovers during the global pandemic.
On October 11, Maze Theory's "Exclusive: New Doctor Who games launching soon" panel will include actor Ingrid Oliver, Maze Theory's Studio Director Russ Harding, writer Gavin Collinson, and CEO of Kaigan Games, Amzi Shah. Panellists will reveal exclusive new Doctor Who adventures that form a trilogy of experiences across multiple gaming platforms.
Once confirmed, the panel times will be list on the Doctor Who Facebook page and www.findthemetaverse.com.
The Doctor Who panels will be part of NYCC and MCM Comic Con Metaverse, a multi-faceted digital event with a focus on the fan experience. From October 8-11, Metaverse will exclusively livestream free panels on the NYCC YouTube Channel from leading entertainment brands.
Doctor Who: Time Lord Victorious is a brand-new, carefully-curated narrative within the Doctor Who world told through various stories available across comics, books, audio dramas, CD/Vinyl, and collectables, which launched September 2, 2020 in the U.S. and Canada. Through partnerships with leading licensees, each story can be enjoyed separately with a natural beginning and end, or combined to create the entire narrative. All information about Doctor Who: Time Lord Victorious can be found at the BBC Shop US page. Full details on the global program can be found at Doctor Who TV.
In the U.S., Doctor Who premieres exclusively on BBC AMERICA, with past seasons available to stream exclusively on HBO Max.
About Doctor Who
Doctor Who is one of the longest running action adventure television series in the world, spanning 56 years and winning over 100 awards. This quintessentially British show has a huge global following, with 9.6m fans across social platforms/channels and 100m video views on YouTube in the last year alone. It has been honoured by Guinness World Records as the longest running science-fiction series in the world. Doctor Who has a proven track-record in consumer products and live entertainment with over four and a half million Sonic Screwdrivers sold in the past eleven years, over 13 million action figures sold since 2005, over 19 million DVDs sold globally, and over one million tickets sold for live events.
Doctor Who logo and insignia © 2018 and TM BBC. Licensed by BBC Studios.
About BBC Studios

BBC Studios, a global content company with bold British creativity at its heart, is a commercial subsidiary of the BBC. Able to take an idea seamlessly from thought to screen and beyond, its activities span content financing, development, production, sales, branded services, and ancillaries across both its own productions, and programs and formats made by high-quality UK independents. Award-winning British programs made by the business are internationally recognized across a broad range of genres and specialisms, with brands like Dancing with the Stars/Strictly Come Dancing, Top Gear, Doctor Who and Bluey. BBC Studios has offices in 22 markets globally, including ten production bases in the UK and production bases or partnerships in a further nine countries around the world. The company, which ordinarily makes around 2,500 hours of content a year for both the BBC and third parties including Apple, Amazon and China Mobile, is a champion for British creativity around the world. It is also a committed partner for the UK's independent sector through a mix of equity partnerships, content investment and international distribution for program titles. To the BBC, BBC Studios contributes both cash dividends and funds for program-making, supporting the license fee and enhancing programs for UK audiences.
In the Americas, BBC Studios manages joint venture relationships with AMC Networks for flagship channel BBC AMERICA (U.S.) – home of original series Killing Eve and global brands Seven Worlds: One Planet, Doctor Who, and Top Gear – and with ITV for SVoD service BritBox (U.S./Canada), as well as strategic partnerships in Canada with Blue Ant Media for BBC Earth Channel and Corus for BBC Canada. The company also operates a robust linear and digital content sales and co-productions operation, as well as a franchise management business. In addition BBC Studios operates two production units with team members across the regions.  The primary unit in Los Angeles is responsible for ratings juggernaut and Emmy®-nominated Dancing with the Stars and multi-award-winning Life Below Zero.  In Brazil, through a production partnership with Endemol Shine, local productions Dancing Brasil and Bake Off Brasil have become breakout hits.
Press contacts:
BBC Studios
Kimberly Ehlmann
212-705-9359, kimberly.ehlmann@bbc.com