November 17, 2023
'BLUEY: THE VIDEOGAME' IS OUT NOW! FOR REAL LIFE
The BAFTA and Emmy® Award-winning animated series makes its long-awaited gaming debut on PC and consoles today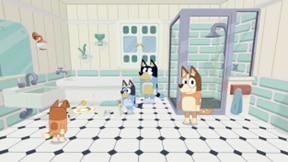 London, 17 November 2023 — Get ready for an all-new Bluey adventure as Bluey: The Videogame launches today on consoles and PC. Created by Outright Games, the leading global publisher of family-friendly interactive entertainment, in partnership with BBC Studios, Bluey: The Videogame marks the highly anticipated video game debut of the internationally loved TV show.
Bluey: The Videogame is based on the Emmy® and BAFTA Award-winning global TV show phenomenon Bluey, which follows Bluey, a loveable, inexhaustible, Blue Heeler dog, who lives with her Mum, Dad and her little sister, Bingo. Bluey uses her limitless energy to play games that unfold in unpredictable and hilarious ways, bringing her family and the whole neighbourhood into her world of fun.
This interactive sandbox adventure video game allows players to explore the wonderful world of Bluey for the first time ever, in four player local co-op for the whole family to play together. Bluey: The Videogame is now available to play on Nintendo Switch, PlayStation 5, PlayStation 4, Xbox Series X/S, Xbox One and PC.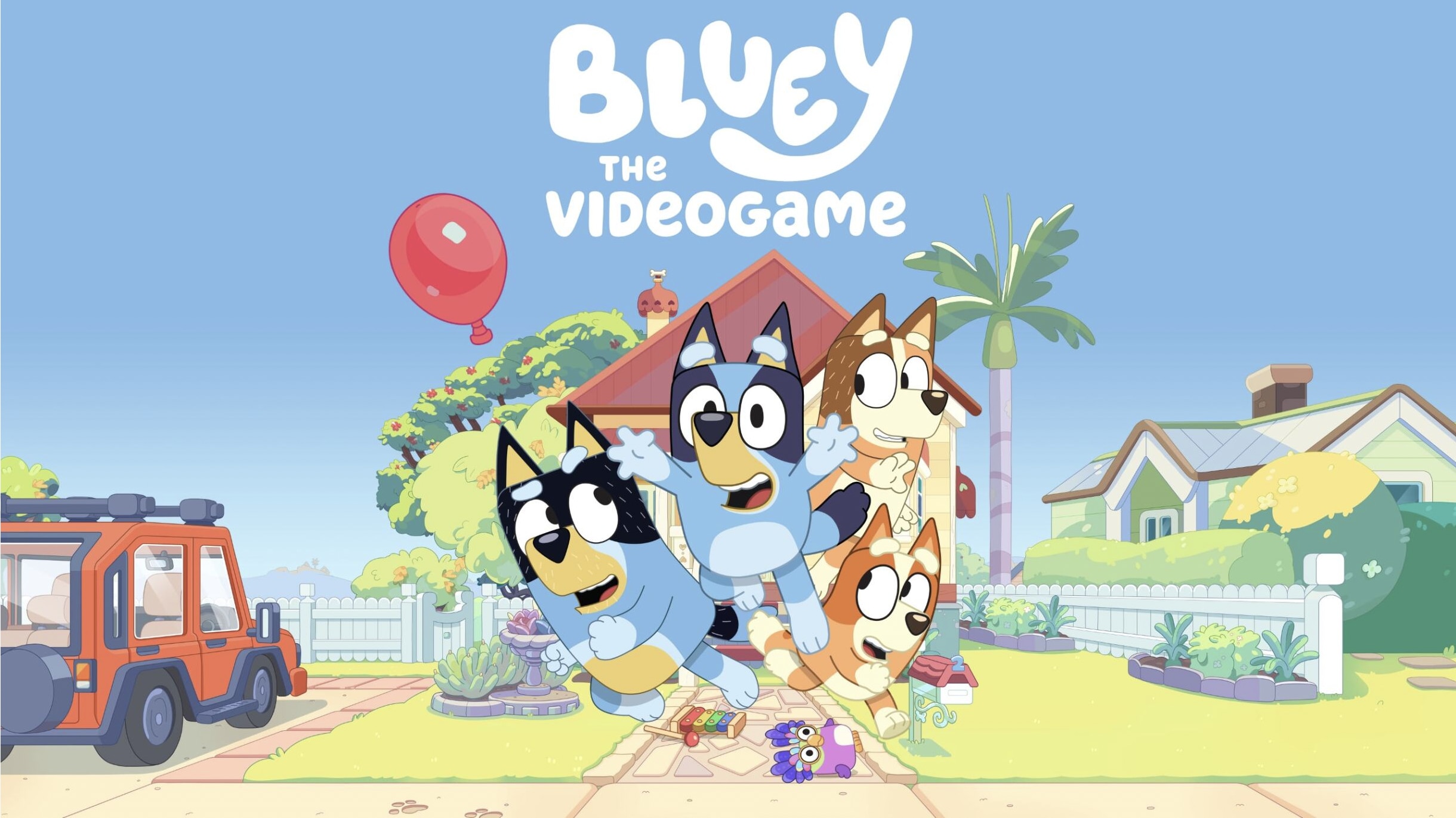 Become immersed in Bluey's wondrous world
Bluey: The Videogame features the unmistakable voices from the official English speaking cast of the show, including Dad, Bandit (David McCormack) and Mum, Chilli (Melanie Zanetti) as well as other voice cast members across the many localized versions of the game.
Visit iconic locations from the series including Bluey's house, the Playgrounds, the Creek and the Beach – faithfully recreated and freely explorable in a video game for the first time ever. Players can uncover hidden references throughout each location or use the sandbox environment and its interactive items to facilitate free-play, acting out moments from the show through the medium of the video game.
The game's soundtrack also features several of the iconic, chart-topping Bluey music tracks from composer Joff Bush alongside all-new music composed by the development team, inspired by musical themes from the original TV series.
Play together as a family
Players can play as Bluey, Bingo, Mum and Dad in up to four player local co-op fun for the whole family. Jump into mini-games straight out of the series including 'Keepy Uppy', 'Ground is Lava', 'Magic Xylophone' and an all new minigame created for the game, 'Chattermax Chase'.
Accessibility features have been implemented to ensure that fans of all ages can experience the joy of Bluey. Both pre-school or older players can play at their own pace by jumping seamlessly between story quests, activities and exploration. Other features added to the game include the ability to toggle UI on/off, simple written on-screen instructions for early readers, and full voice-over throughout.
Discover a brand new four-part storyline
Join Bluey and Bingo on their school holidays as they create a special sticker book to record all their latest adventures. Make memories with the Heeler family by unlocking costumes, stickers and locations in episodic gameplay created in collaboration with BBC Studios and the show's producers at Ludo Studio.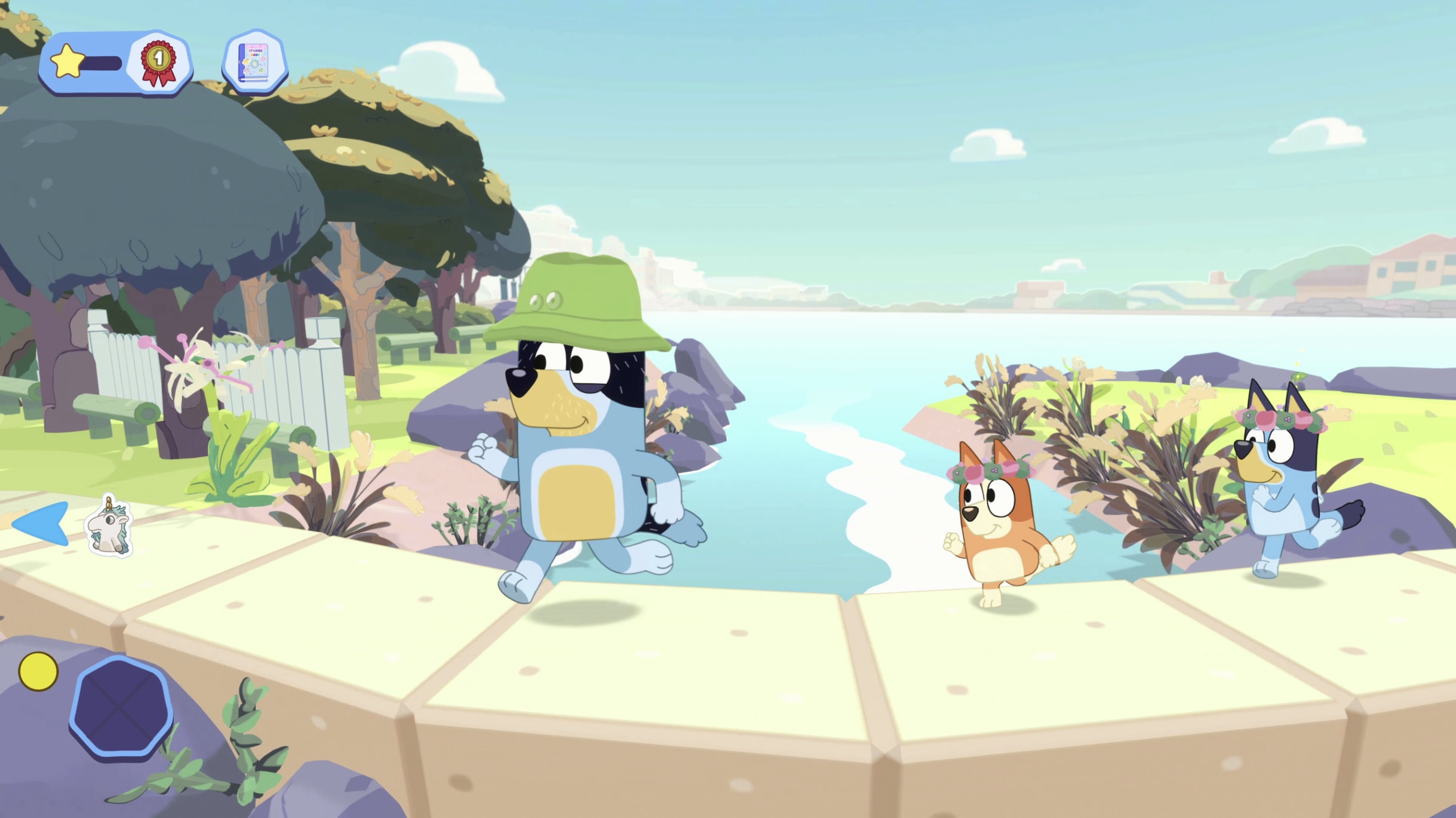 Stephanie Malham, COO of Outright Games said: "We're delighted to celebrate the launch of Bluey: The Videogame, it's an honour to be trusted with bringing such an iconic world to life, in a video game for the first time ever. We understand the great responsibility that comes with adapting these beloved characters and our goal throughout has been to create an experience that feels like stepping into an episode of Bluey. Families can sit down and enjoy playing together just like they have gathered to watch the show over the years. As with all our titles, we are dedicated to making Bluey: The Videogame accessible to fans of any age, including young players and their parents, by developing intuitive gameplay that faithfully captures the everyday family joys that are at the core of Bluey".
Kevin Jorge Senior Producer Gaming & Interactive at BBC Studios said: "Bringing Bluey's adventures to console and PC platforms for the first time is incredibly exciting. Alongside our friends at Outright Games, we hope that kids and families across the world love playing Bluey: The Videogame together as much as they do watching the show."
Bluey: The Videogame is available now for €39.99 / £34.99 / $39.99 on Nintendo Switch, PlayStation 5, PlayStation 4, Xbox Series X/S, Xbox One and PC.
Make sure to follow the Outright Games website for the latest news.
-Ends-
Notes for editors
Bluey: The Videogame has been given the following age ratings:
PEGI (3)
ESRB (E)
USK (0)
GCAM (3)
COB (G)
Bluey: The Videogame is available with full localised voice over in: English, French, Italian, German, Spanish (EU), Spanish (LATAM), Dutch, Polish, Arabic, Swedish, Danish, Finnish. Localised subtitles and text are available in English, French, Italian, German, Spanish (EU), Spanish (LATAM), Brazilian Portuguese, Dutch, Polish, Arabic, Swedish, Norwegian, Danish, Finnish, Simplified Chinese, Traditional Chinese and Korean.
About Bluey
Bluey is produced by Emmy® Award-winning Ludo Studio for ABC KIDS (Australia) and co-commissioned by ABC Children's and BBC Studios Kids & Family. Financed in association with Screen Australia, Bluey is proudly 100% created, written, animated, and post produced in Brisbane Queensland, Australia, with funding from the Queensland Government through Screen Queensland and the Australian Government.
Bluey first premiered in Australia on ABC Kids in 2018 and later premiered to U.S. and global audiences across Disney Channel, Disney Junior and Disney+.
The series is distributed internationally by BBC Studios Kids & Family outside Australia. BBC Studios Kids & Family has a global broadcast deal with Disney for Bluey in all territories outside Australia, New Zealand, and China. Seasons 1-3 of Bluey are streaming on Disney+, and available on Disney Channel, Disney Junior. In the UK, Season 1-2 are available on free-to-air broadcast channel CBeebies and BBC iPlayer.
About BBC Studios Kids & Family 
BBC Studios Kids & Family is an integral part of the BBC Studios content powerhouse – a global company with bold British creativity at its heart. Formed in 2022 with the move of BBC Children's In-house Production into BBC Studios Productions,  combines into one team, the exceptional talent and expertise of BBC Children's In-House Production alongside the global insight, content sourcing, investment, customer and brand experience within BBC Studios, to seamlessly take content from conception, development and production to investment, franchise management and distribution.
BBC Studios Kids & Family identifies, secures and nurtures great projects and turns them into global and local hits suitable for the CBeebies branded services and other major broadcast platforms and markets.   With specialist knowledge of what makes young audiences tick, BBC Studios Kids & Family understands the market opportunity and provides the conditions that allow ideas to develop and flourish.
The division's multi-genre portfolio includes some of the most exciting and successful franchises in the world, with BAFTA and International Emmy winning craft and storytelling, including Blue Peter, Bluey, Get Even, Hey Duggee, JoJo & Gran Gran, The Beaker Girls, Sarah & Duck and Something Special.  Its productions air on BBC Children's in the UK, on the multi-territory CBeebies and BBC Kids branded services and on leading content platforms around the world.
BBC Studios | Website | Press Office | Twitter | LinkedIn | Instagram |
About Ludo Studio
Ludo Studio is a BAFTA, multi-Emmy® and Logie award-winning Australian studio that creates and produces original scripted drama, animation and digital stories that are authored by incredible local talent, distributed globally and loved by audiences everywhere. ludostudio.com.au
About Outright Games
Outright Games is a global video games publisher with a focus on bringing quality family entertainment to a worldwide audience. Founded in 2016, Outright Games has established its place in the market delivering engaging interactive games of beloved entertainment licences globally. Outright Games brings stories and characters to life with titles including favorites such as Peppa Pig: World Adventures with Hasbro, DC's Justice League: Cosmic Chaos with Warner, Star Trek Prodigy: Supernova and Paw Patrol: Grand Prix with Nickelodeon, and DreamWorks Dragons: Legends of The Nine Realms with NBC Universal. With an Outright Games title there will be fun for all the family to enjoy. For more information please visit: www.outrightgames.com
Find out more:
Website: Outright Games
Twitter: @Outright_Games
Facebook: Outright Games Ltd
Instagram: Outright_game
About Artax Games
Young and independent video game company. Talented daydreamers with a large background within the industry.   For more information please visit https://www.artaxgames.com