September 30, 2021
Bluey puts pen to paper on Crayola partnership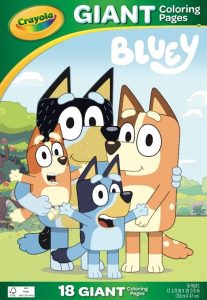 BBC Studios has agreed to a multi-territory licensing deal with Crayola for stationery, arts, crafts and colouring packs further expanding its global licensing portfolio for the multi-award-winning Bluey.
The first products to hit the shelves will be Giant Colouring Pages which will be available at Walmart in the US in time for the holiday season.
In addition to the US, the licensing deal covers Canada, Australia and New Zealand as well as the UK where the range will be available in January 2022.
Warren Schorr, Vice President, Business Development and Global Licensing, Crayola said: "Crayola has inspired artistic creativity in children for more than 100 years.  Our partnership with BBC Studios for Bluey colouring and activity products will showcase our mission.  We know that parents' value creative and imaginative play, which we can enable and enhance by offering the best products with the best partners."
Suzy Raia, Senior Vice President, Consumer Products and Business Development, BBC Studios – Americas, added: "This is a pivotal moment for our beloved preschool brand Bluey as we bring iconic brands like Crayola to an expanding portfolio of licensees that broaden the world of Bluey at retail. Crayola is a natural fit and extension of Bluey's brand, promoting creativity and imaginative play for preschool children.  I know children and their parents will be delighted to see these brands come together."
Crayola joins a growing roster of top tier Bluey licensees including Moose Toys, Penguin Random House, VTech and Stor.
Bluey has won the hearts of kids and parents around the world since it first launched in Australia in October 2018 and has become a global hit.
In Australia, Bluey was the #1 children's programme on metro broadcast television in 2020 and is the #1 series ever on ABC iview with over 480 million views across series one and two since its launch*. In the UK, it was the most viewed show on CBeebies in August** and is also available on Disney+. In the U.S., across Disney Junior and Disney Channel in Q2 2021, the show was the #1 most watched TV series with kids ages 2-5.*** The series ranked #1on Disney Junior in Canada for children 2-11, and #2 for children 2-5 in Spring 2021.****
Bluey has also won multiple awards, such as the International Emmy ® Kids Award in the prestigious Preschool Category in 2020, and its second AACTA Awards for Best Children's Program that same year. The accolades continue in 2021, with Bluey winning four Kidscreen Awards in February.
The series follows Bluey, a six-year-old Blue Heeler dog who loves to play and turn everyday family life into extraordinary adventures that unfold in unpredictable and hilarious ways, bringing her family, friends and community into her world of fun.
Bluey is produced by multi-Emmy® award-winning Ludo Studio for ABC Kids Australia, co-commissioned by ABC Children's and BBC Studios, and distributed internationally by BBC Studios outside of Australia.
About Crayola®
Crayola LLC, based in Easton, Pa. and a subsidiary of Hallmark Cards, Incorporated, is the worldwide leader in children's creative expression products. Known for the iconic Crayola Crayon first introduced in 1903, the Crayola brand has grown into a portfolio of innovative art tools, crafting activities and creativity toys that offer children innovative new ways to use colour to create everything imaginable. Consumers can find the wide array of Crayola products in the "Crayola Aisle" at all major retailers. For more information visit www.crayola.com or join the community at www.facebook.com/crayola
About BBC Studios
BBC Studios, a global content company with bold British creativity at its heart, is a commercial subsidiary of the BBC. Able to take an idea seamlessly from thought to screen and beyond, its activities span content financing, development, production, sales, branded services, and ancillaries across both its own productions, and programs and formats made by high-quality UK independents. Award-winning British programs made by the business are internationally recognized across a broad range of genres and specialisms, with brands like Dancing with the Stars/Strictly Come Dancing, Top Gear, Doctor Who and Bluey. BBC Studios has offices in 22 markets globally, including ten production bases in the UK and production bases or partnerships in a further nine countries around the world. The company, which ordinarily makes around 2,500 hours of content a year for both the BBC and third parties including Apple, Amazon and China Mobile, is a champion for British creativity around the world. It is also a committed partner for the UK's independent sector through a mix of equity partnerships, content investment and international distribution for program titles. To the BBC, BBC Studios contributes both cash dividends and funds for program-making, supporting the license fee and enhancing programs for UK audiences.    
In the Americas, BBC Studios – with team members across the region – manages joint venture relationships with AMC Networks for flagship channel BBC AMERICA (U.S.) – home of original series Killing Eve and global brands Seven Worlds: One Planet, Doctor Who, and Top Gear – and with ITV for SVoD service BritBox (U.S./Canada), as well as a strategic partnership in Canada with Blue Ant Media for BBC Earth Channel and BBC First. The company also operates a robust linear and digital content sales and co-productions operation, as well as a franchise management business.  In addition, BBC Studios operates a major production unit in Los Angeles responsible for the highly-rated, Emmy®-winning Dancing with the Stars, the multi-award-winning Life Below Zero, and the popular reboot of the classic quiz show Weakest Link.  In Brazil, through a production partnership with Endemol Shine, local production Dancing Brasil has become a breakout hit.  In addition, the company has recently launched BBC SELECT in the U.S. and Canada, an ad-free, digital streaming channel offering all-new documentaries across culture, politics and ideas, on Amazon Prime Video Channels and the Apple TV app. 
Follow us on Twitter: @BBCStudiosUSPR | BBC Studios Press Room