July 5, 2023
Big Cats 24/7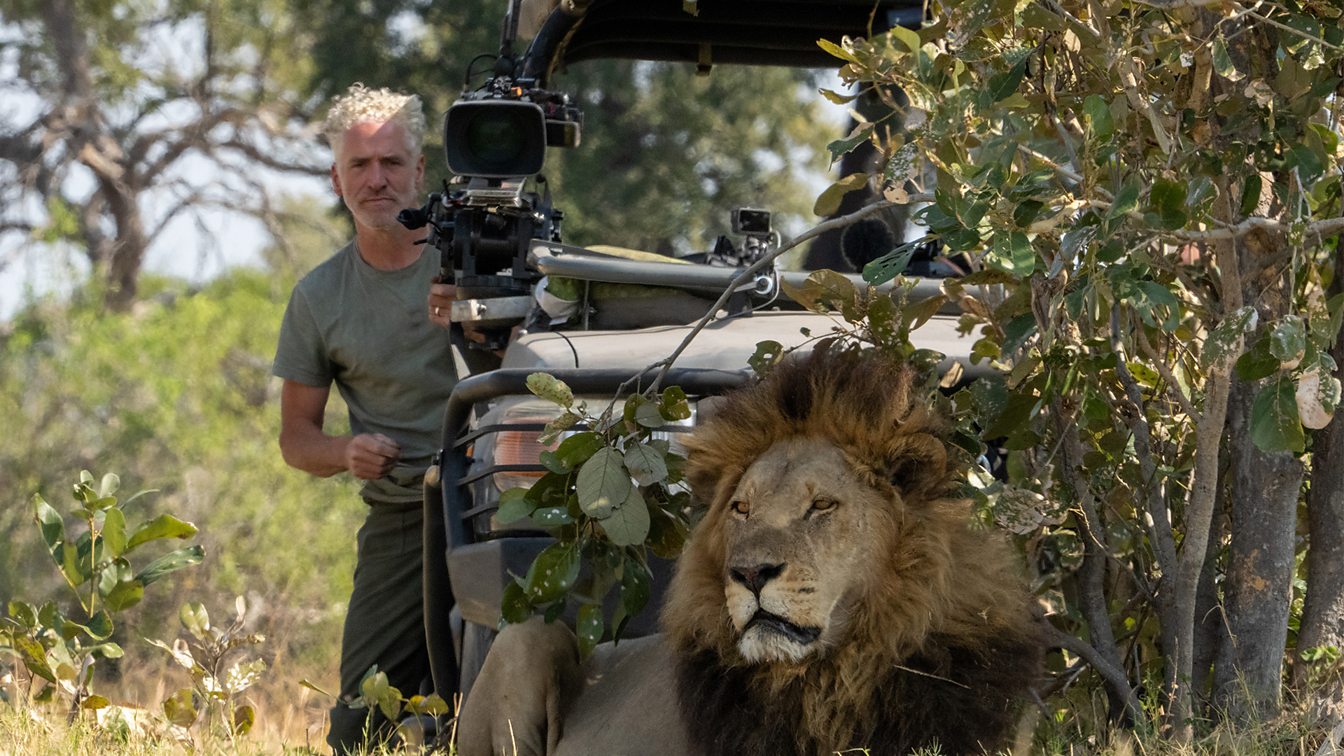 Behind-the-scenes production photo of Gordan Buchanan and a big cat
In this 6×60' series, an elite camera team follow a group of African big cats, day and night, for six months. Filmed using the very latest technology, Big Cats 24/7 will give viewers an unprecedented insight into the lives of the lions, leopards and cheetahs of Botswana's awe-inspiring Okavango Delta – a place described as one of Africa's last great natural sanctuaries.
The team of camera experts, which includes wildlife cinematographers Gordon Buchanan, Vianet Djenguet and Anna Dimitriadis, and an award-winning local Botswanan camera crew lead by Brad Bestelink, must track the cats across unforgiving terrain, keeping their cameras rolling 24/7. It's a mission that will push them to their limit, as they deal with wildfire and extreme weather in one of the wildest places on the planet.
Cutting-edge tracking technology means the team can follow the cats' movements more closely than ever before, and state-of-the-art low-light cameras allow them to capture previously unseen nocturnal behaviour for the very first time.
Charting all the action in the Okavango over six months, over two extreme seasons of flood and drought, this six-part series aims to show you big cats as you've never seen them before.
Roger Webb, Executive Producer, said: "Being able to go deeper into the lives of Africa's big cats than ever before is a mouth-watering prospect. Expect the unexpected and to witness things you've never seen before in an African wilderness that's almost as dynamic as the cats. It's sure to be a rollercoaster of drama and emotion and it's why we're so excited to be making Big Cats 24/7."
Big Cats 24/7, a 6×60' for BBC Two, iPlayer and PBS is made by BBC Studios Natural History Unit and co-produced by PBS. It was commissioned by Jack Bootle, Head of Commissioning, Specialist Factual. The Executive Producers are Roger Webb and Tom Jarvis, the Series Producer is Rowan Crawford and the Production Manager is Gillian Goodlet. The Commissioning Editor is Sreya Biswas. The Executive in Charge for PBS is Bill Gardner.