September 28, 2023
BBC Studios unveils compelling MIPCOM 2023 slate
and bespoke market events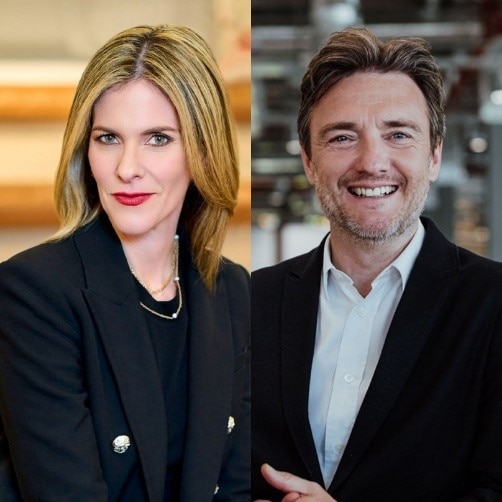 New, high-quality and diverse programming slate across all genres includes Mammals, The Famous Five, Truelove, A Good Girls Guide to Murder, The Castaways, Disco: Soundtrack of a Revolution, The Unique Boutique and Lost Dogs: Live
Bespoke events include a Fireside chat with BBC Studios CEOs for Global Distribution and Production, Rebecca Glashow and Ralph Lee
Live play-along game of award-winning format, The 1% Club open to Cannes delegates
BBC Studios today announced that it will be heading to MIPCOM with a standout slate packed with distinct, high-quality programming across all genres. Rebecca Glashow and Ralph Lee, CEOs for Global Distribution and Production, will participate in a fireside chat to discuss how BBC Studios is leveraging its global reach, unique creative depth, diverse content portfolio and commercial strength to support commissioning and distribution customers and breakthrough in a global content marketplace with unprecedented disruption.
The session, GROWING A GLOBAL CONTENT STUDIO IN A DISRUPTED MARKETPLACE, will take place on Tuesday 17th October, from 09:30-10:00 local time at the Hi5 Studio, 5th Floor of the Palais. Glashow and Lee will discuss how the combination of BBC Studios' creative and commercial strengths is bringing a broad, yet distinctive content offer to customers across the globe and will give their insight on the impact of current global trends, opportunities and challenges for the wider market.
Ahead of the fireside chat, on Monday 16th October, BBC Studios will be bringing the hit international primetime entertainment format from Magnum Media, The 1% Club, to life with a one-off experience for Cannes delegates. The exclusive play-along game will take place in the Hi5 Studio from 9.45 -11:00 CET with buyers seeing if they have what it takes to join The 1% Club for themselves.
Alongside the in-person events, BBC Studios will be presenting a curated slate of premium titles to international buyers across all genres. Several titles from the extensive catalogue are represented across awards ceremonies taking place throughout MIPCOM, including 8 nominations at TBI's Content Innovation Awards and 3 nominations at the Diversify Awards.
Titles across the Scripted slate include:
Moonage Pictures modern adaptation of Enid Blyton's much-loved children's classic The Famous Five which is co-created and executive produced by world renowned writer, director and producer Nicolas Winding Refn and co-produced with ZDF in Germany.
A Good Girls Guide to Murder adapted from Holly Jackson's global bestselling mystery thrillers for the BBC and ZDFneo, and also produced by Moonage Pictures, sees Wednesday star Emma Myers as the insatiably smart, slightly square heroine Pip Fitz-Amobi unravelling the case of a murdered schoolgirl.
Jimmy McGovern's highly anticipated second series of Time, follows the BAFTA winning original series, produced by BBC Studios Drama in co-production with BritBox North America, with a new story told through the lens of three very different inmates, offering a moving and high-stakes portrayal of life inside a women's prison. The series stars Jodie Whittaker (Doctor Who, Broadchurch), Tamara Lawrance (The Silent Twins, The Long Song), Bella Ramsey (The Last of Us, His Dark Materials) and Siobhan Finneran (Happy Valley, Downton Abbey).
Truelove for CH4 from Clerkenwell Films, the team behind BAFTA award-winning series The End Of The F***ing World and Somewhere Boy, delivers a unique and uncompromising thriller with twist and turns, irreverent humour and passionate romance, led by a mature ensemble cast.
The adaptation of Lucy Clarke's bestselling thriller, The Castaways, commissioned by Paramount+, finds Erin (Celine Buckens – Showtrial, Warhorse) searching for her missing sister Lori (Sheridan Smith– Mrs Biggs, The C Word)  after her island-hopping plane crashes whilst they're on the holiday of a lifetime in Fiji. As dark secrets are revealed both in the past and present day, each shocking twist and turn slowly reveals the truth about what happened, a truth that someone on the island will kill to keep secret.
BBC Studios' world-renowned Natural History Unit presents two new definitive series; Mammals, co-produced by France Televisions, ZDF and BBC America, offers fascinating insights into one of the most remarkable groups of animals in the world with exclusive never-seen before behaviours encountered; whereas Big Little Journeys, co-produced by PBS, magnifies the dramatic adventures faced by six of the world's tiniest heroes of the animal kingdom.
Meanwhile, Earth, from the BBC Studios Science Unit and NOVA for PBS and the BBC, tells the astonishing four-billion year story of the place we call home by using cutting-edge CGI to reveal key moments in our planet's history.
The BBC Studios' Documentary Unit offers up an eclectic mix of thought-provoking content. Real-life supernatural encounters that seem to defy logical explanation are explored in Uncanny, whilst PBS co-productions Julius Caesar: Rise of the Roman Empire (w/t) combines landmark history with contemporary political analysis and Disco: Soundtrack of a Revolution examines 1970s glamour, hedonism and exuberance via the musical cultural legacy.
From wedding planning battles in Ultimate Wedding Planner, to unearthing fascinating factory secrets and how things are made in Inside the Factory, and tailor-made transformations for people under-served by mainstream fashion in The Unique Boutique, these are just some of the themes explored in the Factual Entertainment titles on offer from BBC Studios.
Lost Dogs: Live is a heart-warming TV event, that calls on the public to help reunite a nation's missing dogs with their heart-broken owners, whereas Evil Genius, for AETN UK/ Sky History, is a comedy entertainment show that debates the reputations of historical icons to ask: "Are they Evil or Genius?" Both Formats feature alongside the international hit The 1% Club and others at Mipcom this year.
Kids & Family titles features two adaptations of best-selling books. Author Amy Ignatow's, Popularity Papers by Corus Entertainment's Aircraft Pictures and WexWorks Media is a live action comedy following two best friends at middle school as they set out to crack the 'popularity' code by conducting a variety of hilarious social experiments which lead them to find out more about being their authentic selves. Author William Bee's Stan Can, is an animated pre-school series produced by BBC Studios Kids & Family and features the adorable adventures of Stanley, a highly resourceful "can-do" hamster, always ready to help his community of furry friends.
Rebecca Glashow, CEO for Global Distribution, BBC Studios said "We're returning to MIPCOM with a stellar line-up of content for international buyers. Our slate includes scripted titles with world-class talent, ground-breaking natural history and science titles, impeccably presented documentaries as well as award-winning formats and innovative entertainment shows. What unites them all is the scale of their ambition and the first-class viewing experience they deliver for our global audiences."
Other BBC Studios executives will also take part in the MIPCOM and MIPJUNIOR conference programmes.
At MIPJUNIOR,  Edward Barnieh, will be participating as a judge for the MIPJUNIOR Pitch (6 to 12) Kids/Tweens taking place Sunday 15th October, 14:45-16:00 in the Grand Theatre. The exceptional competition showcases new Kids' TV projects with tremendous potential for commissioning and multi-platform extension.
On Tuesday 17th October, BBC Studios' Lawrence Szabo, EVP, U.S. Content Distribution will be attending MIPCOM's annual co-production breakfast from 08:30-09:30 at the Seaview Producers hub, where top creative and business leaders shaping today's international drama will gather to discuss an ever-changing TV landscape with a focus on distribution.
Jan Salling, Head of BBC Studios Nordic Productions and André Renaud, SVP Global Format Sales will participate in the FRAPA Formats Summit which will include a panel discussion followed by informal 1:1s with attendees from 10:30-12:30 on Tuesday at the Seaview Producers hub.
Then on Tuesday afternoon, Sarah Shriver, VP of Marketing & Programming Sales for FAST & VOD will participate in the new highly anticipated FAST & GLOBAL networking summit from 14:20-16:00 in the MIP Lab.
BBC Studios will be located at P0.E1 within the Palais des Festivals Verrière section at the market.
-Ends-
About BBC Studios
BBC Studios is a commercial subsidiary of the BBC Group with sales of £2.1 billion (2021/22: £1,630 million). Able to take an idea seamlessly from thought to screen and beyond, the business is built on two operating areas: the global Content Studio, which produces, invests and distributes content globally and Channels & Streaming, with BBC branded channels, services and joint ventures in the UK and internationally. Around 2,500 hours of award-winning British programmes are made by the business every year, with over 80% of total BBC Studios revenues coming from non-BBC customers including Discovery, Apple and Netflix.  Its content is internationally recognised across a broad range of genres and specialisms, with brands like Strictly Come Dancing/Dancing with the Stars, Top Gear, the Planet series, Bluey and Doctor Who. BBC.com is BBC Studios' global digital news platform, offering up-to-the-minute international news, in-depth analysis and features.
BBC Studios | Website | Press Office | Twitter | LinkedIn | Instagram |