May 5, 2022
BBC Studios Names Tycoon Licensing Agent for Bluey in  
South and Central America 
New Strategic Partnership to Expand the Reach of the Global Hit Preschool Brand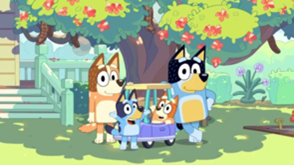 New York, NY – May 5, 2022 – BBC Studios, distributor and licensor for the Emmy® Award-winning international preschool sensation Bluey, has appointed Tycoon as its licensing agent for South and Central America, helping to further extend the footprint of the global hit throughout the region. 
Elias Fasia-Cohen, President and Co-Founder of Tycoon says: "We have been long admirers of BBC Studios and could not be happier to represent Bluey, which is a true reflection of the group's commitment to high quality content. We are delighted to work hand in hand with such a talented group in bringing Bluey to the homes and hearts of Latin American consumers and look forward to many years of success together." 
Murilo Hinojosa, Director of Licensing, Latin America for BBC Studios says: "We're excited to work with Tycoon and confident their expertise will help expand the global sensation Bluey further to South and Central America. The upcoming range of high-quality licensed products will enable children to use their imagination and enjoy their own Bluey-inspired adventures." 
The Bluey toys, from global master toy licensee Moose Toys, will be distributed locally by Imexporta in Chile and Peru; Caffaro in Argentina; and Boing Toys in Colombia, Ecuador, Peru, Bolivia, Paraguay, Uruguay, Central America and the Caribbean islands beginning later this year. 
This appointment reinforces the commitment that BBC Studios has in Latin America. Early this year, Lotus Global was appointed as licensing agent for Brazil while Panaderia was appointed for Mexico in the last quarter of 2021. In Mexico, the program keeps expanding into other categories after a very successful toy launch last year. 
In 2022, starting in June and extending into the fall, new licensees will be launched, such as: Granmark, Ruz, Stor, Union Kids, Novelty Corp., and Penguin Random House, ranging from party goods to apparel and publishing. 
Bluey is a multi-award-winning children's series that has taken Australia and the U.S. by storm and is now available in more than 60 markets, charming audiences across the globe. Loved by parents and children for its heartfelt portrayal of family life and celebration of play, the series follows Bluey, a 6-year-old Blue Heeler dog, who loves to play and turns everyday family life into extraordinary adventures that unfold in unpredictable and hilarious ways, bringing her family – including younger sister Bingo and parents Bandit and Chilli – friends, and community into her world of fun. 
In Latin America, Bluey is available on Disney Channel, Disney Junior and Disney+ as well as through free-to-air television channels, TV Cultura in Brazil and Azteca 7 in Mexico. 
To complement the experience, there is also content on social media, through the Facebook channel launched in January this year and the official YouTube channel, which has reached over 510k followers in less than a year with over 200M views on the Spanish page. 
Bluey has won the hearts of kids and parents around the world since it first launched in Australia in October 2018 and has fast become a global hit, achieving outstanding ratings and attracting a multitude of best-in-class partners. In its home market, Australia, Bluey is the #1 children's show across all age groups (since 2019). With Season three already airing in Australia, the show has performed 2.3x above timeslot average audience (total audience) and the new episodes achieved 14 of the top 20 broadcasts on free-to-air TV in 2021.1 
 Season three of Bluey debuted in Australia on ABC TV in November 2021 and is set to be released globally on Disney platforms later this year. In the U.S., where the series has been a runaway hit since its 2019 debut, Bluey was Disney Junior's #1 ratings driver with kids 2-5 last year.2 It also ranked as the #1 most-watched TV series in second quarter of 2021 and a top 3 show every quarter in 2021.3 In addition, Bluey owned two of the top 10 cable telecasts of 2021 with kids 2-5.4 
The series has enjoyed critical success globally, winning an International Emmy® Award in the Preschool category in 2020. Most recently, Bluey has earned four 2021 Kidscreen Awards (Best Animated Series, Best Directing, Best Writing, Best Music), a 2021 Rockie Award (Best Animation Program for Pre-school Viewers), and a 2021 ARIA Award for Best Children's Album. 
1 Source: OzTam Metro TV Panel, 2am-2am, Total People, Consolidated 28, Jan – Dec 2021. 
2 Source: NMR Live+7 data (12/28/20-12/26/21), excludes specials, movies, and shorts. Based on 52+ tlcs. 
3 Source: NMR Live+7 data ranked on time spent viewing across all TV networks aired on (12/28/20-12/26/21, by Nielsen qtr dates) 
4 Source: NMR Live+7 data (12/28/20-12/26/21). Excludes sports.