September 23, 2021
BBC Studios Names Nelvana and Panaderia Licensing Agents for Bluey in Canada and Mexico
New Partnerships Extend the Smash-Hit Preschool Series' Consumer Products Footprint in North America 
Murilo Hinojosa Appointed Director of Licensing for Latin America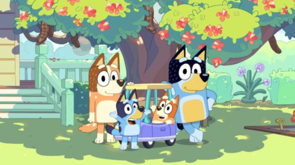 New York, NY – September 23, 2021 – BBC Studios, the distributor and licensor for the international preschool sensation Bluey, has named top licensing agencies Nelvana and Panaderia for Canada and Mexico, respectively, to extend the brand's successful merchandising program. The two companies will build on the series' popularity in the U.S. and help expand the Bluey experience beyond the screen through meter-moving consumer product partnerships that will build affection for the brand across North America among young fans and their families.
"Nelvana and Panaderia are leading agencies in their respective markets with a long history of success, and we're thrilled to collaborate with them to build the Bluey brand in North America," said Suzy L. Raia, SVP, Consumer Products & Business Development, Americas. "With these new partners on board, children across these regions will soon be enjoying a range of Bluey products and creating their own series-inspired adventures."
"Bluey is already established as a delightfully charming brand with phenomenal international success," said Mellany Masterson, Head of Nelvana Enterprises. "We are so pleased to partner with BBC Studios to bring the magic and joy of the series to life through fun and engaging products for Canadian kids and families."
"It's always a challenge to find properties that grab your heart and have the content and the team to make it a success, and Bluey has it all," said Panaderia President and CEO Maca Rotter. "We are thrilled to partner with BBC Studios to bring Bluey to life for children all across Mexico."
Helping to grow the Bluey brand in Mexico and across Latin America is Murilo Hinojosa, who was recently named Director of Licensing, Latin America. Hinojosa is based in the UK and will identify territorial agents and manage brand development in other priority markets, including Brazil, Colombia, Chile, Argentina, and more.
The debut line of Bluey toys from global master toy licensee Moose Toys launched in Canada in June 2021 with additional product from new licensees expected in 2022. In Mexico, Moose has appointed Bandai as distributor, and the toy line is set to debut exclusively at select Liverpool stores this fall. BBC Studios will be expanding the Bluey brand into softlines, hardlines, health & beauty care, and more, across all territories.
A huge success on-screen and on-shelf from the beginning, Bluey continues to achieve honors for its toy range, collecting awards in Australia and the U.S., among them from the Australian Toy Association for Preschool License of the Year at the Australian Toy Awards two years in a row (2019, 2020); Parents Magazine's Best Toy of 2020; and Amazon's Toys We Love (2020); among others. In addition, NPD Group named Bluey a Top 5 Infant/Toddler/Preschool License.*
Bluey is a multi-award-winning children's series that has taken Australia and the U.S. by storm and is now available in more than 60 markets, charming audiences across the globe. Loved by parents and children for its heartfelt portrayal of family life and celebration of play, the series follows Bluey, a 6-year-old Blue Heeler dog, who loves to play and turns everyday family life into extraordinary adventures that unfold in unpredictable and hilarious ways, bringing her family, friends and community into her world of fun.
Bluey has won the hearts of kids and parents around the world since it first launched in Australia in October 2018 and is fast becoming a global hit, achieving outstanding ratings and attracting a multitude of best-in-class partners. In its home market, Australia, Bluey was the #1 children's program on metro broadcast television in 2020 and is the #1 series ever on ABC iview with over 480 million views across series one and two.** In the U.S., across Disney Junior and Disney Channel in Q2 2021, Bluey was the #1 most watched TV series with kids 2-5. *** The series also continues to rank #1 on Disney Junior in Canada for children 2-11, and #2 for children 2-5.****
Jointly commissioned by BBC Studios & ABC Children's, Bluey is produced by multi-Emmy® award-winning Ludo Studio. The series is distributed internationally by BBC Studios outside of Australia. Bluey currently airs in Canada on Disney Junior, Disney Channel and Disney+. In Mexico, the series can be seen on Disney Junior, Disney+ as well as Azteca 7, the country's free-to-air network.
BBC Studios has a global broadcast deal with Disney for Bluey and recently announced that the third season will debut on Disney Channel, Disney Junior and Disney+ in all territories outside of Australia, New Zealand and China.
* Source: The NPD Group / Retail Tracking Service / USA / Jan-Jun 2021 / USD
** Source: OzTAM (VPM & Begin Event Data) 01.1.2018 – 05.11.2020
*** Source: NPower, based on L+7, 12/28/20 – 03/28/2021, based on time spent through the TV glass
****TV Source: Numeris PPM Data, Total Canada, Spring'21 (Jan 4 – May 30/21) Disney Jr, M-Su 2a-2a, C2-11, C2-5, AMA(000), 3+ airings;
About BBC Studios
BBC Studios, a global content company with bold British creativity at its heart, is a commercial subsidiary of the BBC. Able to take an idea seamlessly from thought to screen and beyond, its activities span content financing, development, production, sales, branded services, and ancillaries across both its own productions, and programs and formats made by high-quality UK independents. Award-winning British programs made by the business are internationally recognized across a broad range of genres and specialisms, with brands like Dancing with the Stars/Strictly Come Dancing, Top Gear, Doctor Who and Bluey. BBC Studios has offices in 22 markets globally, including ten production bases in the UK and production bases or partnerships in a further nine countries around the world. The company, which ordinarily makes around 2,500 hours of content a year for both the BBC and third parties including Apple, Amazon and China Mobile, is a champion for British creativity around the world. It is also a committed partner for the UK's independent sector through a mix of equity partnerships, content investment and international distribution for program titles. To the BBC, BBC Studios contributes both cash dividends and funds for program-making, supporting the license fee and enhancing programs for UK audiences.    
In the Americas, BBC Studios – with team members across the region – manages joint venture relationships with AMC Networks for flagship channel BBC AMERICA (U.S.) – home of original series Killing Eve and global brands Seven Worlds: One Planet, Doctor Who, and Top Gear – and with ITV for SVoD service BritBox (U.S./Canada), as well as a strategic partnership in Canada with Blue Ant Media for BBC Earth Channel and BBC First. The company also operates a robust linear and digital content sales and co-productions operation, as well as a franchise management business.  In addition, BBC Studios operates a major production unit in Los Angeles responsible for the highly-rated, Emmy®-winning Dancing with the Stars, the multi-award-winning Life Below Zero, and the popular reboot of the classic quiz show Weakest Link.  In Brazil, through a production partnership with Endemol Shine, local production Dancing Brasil has become a breakout hit.  In addition, the company has recently launched BBC SELECT in the U.S. and Canada, an ad-free, digital streaming channel offering all-new documentaries across culture, politics and ideas, on Amazon Prime Video Channels and the Apple TV app. 
Follow us on Twitter: @BBCStudiosUSPR | BBC Studios Press Room 
About Ludo Studio
Ludo is a multi-Emmy® and Logie award-winning Australian studio that creates and produces original scripted drama, animation and digital stories that are authored by incredible local talent, distributed globally and loved by audiences everywhere. ludostudio.com.au
About Nelvana
Entertaining kids for over 50 years, Nelvana is a world-leading international producer and distributor of children's animated and live-action content. Nelvana produces a stable of award-winning and globally renowned brands that focus on comedies, preschool and action series, and ancillary consumer products programs. Nelvana's content airs on Corus Entertainment's kids channels in Canada and in over 180 countries around the world. The Nelvana library has well over 4,700 episodes of programming and has received over 70 major international program awards including Emmys® and Canadian Screen Awards. Visit the Nelvana website at nelvana.com.
About Panaderia
LA PANADERIA LICENSING & MARKETING SA DE CV is a private company responsible for the development of market strategies for brands, from their creation to their commercialization and through each stage of the process. The company is based in Mexico City, at Calzada Mariano Matamoros # 9, Colonia del Carmen Coyoacán, Mexico 04100.