June 5, 2023
BBC Studios Kids & Family Adds 30 New Partners for Bluey in
North America and Latin America Ahead of Licensing Expo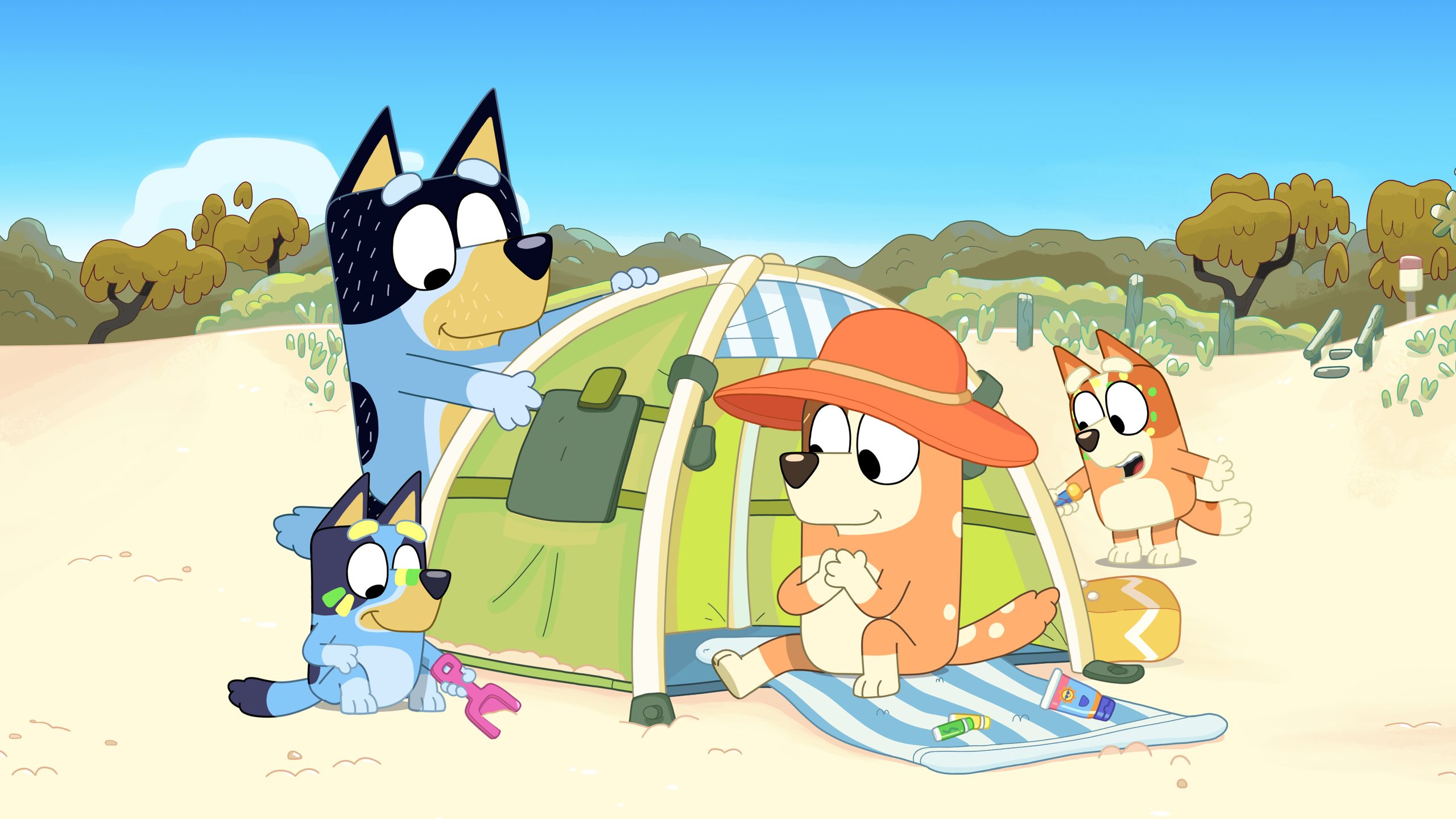 June 5, 2023 – BBC Studios Kids & Family, distributor and licensor for the hit animated series Bluey, is again adding to its already stellar roster of licensing partners creating product based on the Emmy® -winning series that has become a global household favorite. Further building on its notable list of licensing partners are 15 new licensees in the U.S. and Canada and 15 across Latin America. The innovative, imagination-inspiring products, set to debut later this year and 2024, further help kids fully immerse themselves in Bluey's fun-filled world in new and exciting ways.
Bluey won the 2023 Kidscreen Award for Best Animated Series (Preschool) and there's more new episodes on the way, while Bluey's first live stage show, Bluey's Big Play, is visiting fans across the U.S. and Canada. Heading into Licensing Expo, Bluey is nominated for two Licensing International Excellence Awards 2023.
"Bluey fans are asking for more show-themed product and we're excited to deliver spectacular collections from these category-leading companies," said Suzy Raia, SVP Consumer Products and Business Development, North America and Latin America, BBC Studios. "We are working with visionary licensees who are assembling thoughtful assortments that will provide families with more unique ways to engage with Bluey."
New partners introducing Bluey licensed products in the U.S. and Canada this year and next include:
Basic Fun – Bluey Mash'ems – assorted characters (U.S. & Canada)
Centura – Bath products (Canada)
Galerie – Seasonal confections, including holiday treats, shaped candy dispensers, advent calendars, and Finders Keepers™-seasonal confection and surprise (U.S. & Canada)
General Mills – YOPLAIT® Kids Yogurt Pack and Betty Crocker™ Ready-to-Eat fruit flavored shapes (U.S. & Puerto Rico)
Happy Threads – Children's apparel (U.S.)
Hallmark – Hallmark Cards and co-branded Licensee's itty bittys® line (U.S.)
Hybrid Apparel – Children's apparel (U.S.)
Jakks Pacific – Foot to floor ride-ons, trikes, trampolines and ball pits (U.S. & Canada)
Jazwares – Bluey HugMees by Squishmallows plush (U.S. and Latin America)
KIDdesigns – Bluey headphones, speakers and Walkie Talkies (U.S. & Canada)
Kidz Toyz –Toy musical instruments (U.S. & Canada)
Little Sleepies – Co-branded apparel, sleepwear, accessories, and home products (U.S.)
Surprise Drinks – Naturally flavored water with premium attached (U.S.)
The Northwest Group – Throw blankets, pillows and slumber bags (U.S.)
Trove Brands – Co-branded Whiskware™ X Bluey snacking containers (U.S.)
Bluey love continues to grow across Latin America with 15 new partners now on board.
"Bluey is a fan favorite everywhere she goes," said Murilo Hinojosa, Director of Licensing, Latin America, BBC Studios. "This is a very exciting time in Bluey's history and we're pleased to be working with such a large and growing number of best-in-class companies to deliver imaginative series-inspired products to children throughout Latin America."
New Bluey product introductions rolling out across region this year include:
Bestway – Arts & Crafts, Outdoor toys, Oral Care, Car Accessories, Accessories (Mexico)
Carnival design – Party Goods (Central America, Caribbean, Ecuador)
Carvajal Educación – Back-to-school items (Colombia and Ecuador)
Cotillion Otero – Party Goods (Argentina, Paraguay, Uruguay)
Editoria On-Line – Arts & Crafts (Brazil)
Editorial Vertice – Arts & Crafts (Argentina, Paraguay, Uruguay, Chile)
Elka – Games and novelties (Brazil)
Emporio Interior – Kids packaged underwear (Mexico)
Festcolor – Party Goods (Brazil)
Flying Wheel – Camping set, stroller trike, scooters, skates, helmet set, and pop-up tent (Mexico)
Spinmaster – Games, puzzles and beach toys (Mexico)
St Jack's – Apparel (Central America and Caribbean)
Tapimovil – Toys (Argentina)
Wabro – BTS Backpacks & tableware (Argentina, Uruguay, Paraguay and Bolivia)
Xeryus – BTS Backpacks (Brazil)
Bluey follows the adventures of a lovable and inexhaustible Blue Heeler puppy who lives with her Dad, Mum and little sister, Bingo. It showcases the joyful simplicity that can be found in families, by bringing to life how children learn and grow through play.
Distributed internationally by BBC Studios Kids & Family outside Australia. BBC Studios has a global broadcast deal with Disney for Bluey in all territories outside Australia, New Zealand and China with all three seasons available on Disney+, Disney Channel and Disney Junior and more episodes from season three to come in 2023.
-Ends-
Photo available for download here.
Bluey official social media channels: Facebook | Instagram | TikTok | Twitter | YouTube
For more about Bluey, please visit bluey.tv
NOTES TO EDITORS
About Bluey
Bluey is produced by Emmy® Award-winning Ludo Studio for ABC KIDS (Australia) and co-commissioned by ABC Children's and BBC Studios Kids & Family. Financed in association with Screen Australia, Bluey is proudly 100% created, written, animated, and post produced in Brisbane Queensland, Australia, with funding from the Queensland Government through Screen Queensland and the Australian Government.
About Ludo Studio
Ludo Studio is a multi-Emmy® and Logie award-winning Australian studio that creates and produces original scripted drama, animation and digital stories that are authored by incredible local talent, distributed globally and loved by audiences everywhere.
About BBC Studios
BBC Studios is a commercial subsidiary of the BBC Group with sales of £1.6bn (21/22). Able to take an idea seamlessly from thought to screen and beyond, the business is built on four pillars: a global Content Studio (producing, investing and distributing content globally); Channels & Streaming platforms in the UK and across the world; a Brands & Licencing operation which seeks to amplify the impact of IP; and the successful UK-based multi-channel network UKTV. Around 2,400 hours of award-winning British programmes made by the business every year, with three-quarters of its revenues from non-BBC customers including Discovery, Apple and Netflix.  Its content is internationally recognised across a broad range of genres and specialisms, with brands like Strictly Come Dancing/Dancing with the Stars, Top Gear, Bluey and Doctor Who. BBC.com, BBC Studios' global digital news platform, has 139 million unique browser visits each month.
BBC Studios | Website | Press Office | Twitter | LinkedIn | Instagram |