October 24, 2022
BBC Studios Adds Twelve New Partners to Rapidly Growing Bluey North America Licensing Program
Bendon, Inc., Ground Up, Little Kids, Megatoys, Point Zero, PTI, Spirit Halloween, Springs Creative, Sun-Staches, Swimways, Tin Box Company and Unique to Help Spark Kids' Imaginations with New Products Inspired by the Emmy®-Winning Series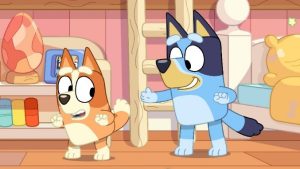 New York, NY – October 24, 2022 – BBC Studios, distributor and licensor for the international preschool hit Bluey, is again adding to its growing list of licensing partners with inventive new products to meet strong consumer demand for more ways for kids to fully immerse themselves in the world of Bluey. Today's announcement comes in the lead up to the new Bluey giant character balloon debuting at the 2022 Macy's Thanksgiving Day Parade®.
Bendon, Inc., Ground Up, Little Kids, Megatoys, Point Zero, PTI, Spirit Halloween, Springs Creative, Sun-Staches, Swimways, Tin Box Company and Unique join the rapidly growing merchandise program based on the hit series available on Disney Channel, Disney Junior, and Disney+. The newest category-leading companies to join the program will begin rolling out new products across the U.S. and Canada this fall and in 2023.
"Fans can't get enough of Bluey, on screen and off, and we're delighted to be able to work with such amazing partners who love the brand and are committed to capturing its warmth, humor and creativity in their products in an even wider range of categories," said Suzy Raia, SVP Consumer Products and Business Development, BBC Studios Americas. "These new licensees will help extend the Bluey experience to kids and families far and wide in exciting and playful new ways."
Among the best-in-class companies set to introduce Bluey products in North America are:
Bendon, Inc. – Imagine ink coloring books in the U.S. and Canada
Ground Up – Footwear in the U.S.
Little Kids – Bubbles and outdoor toys in the U.S.
Megatoys – Seasonal, specifically gift sets including toys, stationery, & seasonal confectionaries in the U.S.
Point Zero (Arctic Squad) – Kids swimwear and outerwear launching in Canada via Nelvana
PTI – Easter baskets and carriers, Halloween carriers and safety products in the U.S.
Spirit Halloween – Halloween costumes, accessories, masks, and treat buckets in the U.S. and Canada
Springs Creative – Craft fabric in the U.S.
Sun-Staches – Children's novelty and traditional sunglasses, blue light glasses, and sunglass cases in the U.S.
Swimways – Pool toys, floats, and swim gear in the U.S.
Tin Box Company – Decorative tins including lunch boxes and storage canisters in the U.S.
Unique – Party accessories, games and favors in the U.S. and in Canada via Nelvana
Jointly commissioned by the Australian Broadcasting Corporation and BBC Studios, Bluey is produced by Emmy®-winning Ludo Studio in association with Screen Queensland and Screen Australia. Season three is now streaming on Disney+ and will air on Disney Junior and Disney Channel beginning Monday, November 7, with more new episodes on the way.
Bluey follows the adventures of a lovable and inexhaustible six-year-old Blue Heeler puppy who lives with her Dad, Mum and four-year-old little sister, Bingo. It showcases the joyful simplicity that can be found in fam   ilies, by bringing to life how children learn and grow through play.
Bluey's first live stage show, Bluey's Big Play The Stage Show, is coming to theatres across the U.S. and will debut this November at Hulu Theater at Madison Square Garden in New York City. The show is a brand-new theatrical adaptation of the TV series featuring brilliantly created puppets with an original story by Joe Brumm and new music by Bluey composer Joff Bush. See blueylive.com for more information and tickets.
NOTES TO EDITORS
About Bluey
Bluey is produced by Ludo Studio for ABC KIDS (Australia) and co-commissioned by ABC Children's and BBC Studios. Financed in association with Screen Australia, Bluey is proudly 100% created, written, animated, and post produced in Brisbane Queensland, Australia, with funding from the Queensland Government through Screen Queensland and the Australian Government.
About BBC Studios 
BBC Studios is a commercial subsidiary of the BBC Group with profits (EBITDA) of £226 million on sales of £1.6bn (21/22). Able to take an idea seamlessly from thought to screen and beyond, its activities span content financing, development, production, sales, branded services, and ancillaries across both its own productions, and programmes and formats made by high-quality UK independents, with three-quarters of its revenues from non-BBC customers including Discovery, Apple and Netflix.  Around 2,400 hours of award-winning British programmes made by the business are internationally recognised across a broad range of genres and specialisms, with brands like Strictly Come Dancing/Dancing with the Stars, Top Gear, Bluey and Doctor Who. BBC.com, BBC Studios' global digital news platform, has 139 million unique browser visits each month.  
BBC Studios | Website | Press Office | Twitter | LinkedIn | Instagram | 
About Ludo Studio
Ludo is a multi-Emmy and Logie award-winning Australian studio that creates and produces original scripted drama, animation and digital stories that are authored by incredible local talent, distributed globally and loved by audiences everywhere.