October 28, 2021
BBC SELECT Announces First Original Co-Production, History of Mother Earth: Gaia Uncovered and New Docuseries Nature and Us: A History through Art to Premiere on November 1
As world leaders gather for the COP26 climate conference, these new documentaries examine humanity's relationship with nature and how our past may have answers for the future of our planet
 Watch Press Screeners – Click Here (Password: BBCSelect21)
New York, NY – Thursday, October 28, 2021 – Documentary streaming service, BBC SELECT (@BBCSelect), today announced its first co-production, History of Mother Earth: Gaia Uncovered with award-winning historian Bettany Hughes.  It will premiere alongside new docuseries Nature and Us: A History through Art with art historian James Fox.  Both shows will premiere Monday, November 1 on BBC SELECT in the U.S. and Canada as part of a curation of films, The Climate Collection, timed to COP26.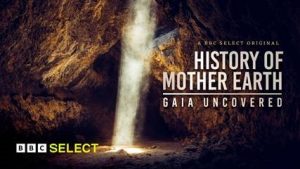 History of Mother Earth: Gaia Uncovered (1 x 60') – Watch Trailer
Historian Bettany Hughes travels to Greece, Egypt, Istanbul and the UK to unravel the secrets the ancient world can teach us, questioning whether the past has the answers to how we can have a future on this earth.
Hughes uncovers the untold story of humanity's relationship with Mother Earth, past and present, through the Greek Goddess Gaia and her relatives, Kybele, an Eastern Goddess adopted by the Romans and the Egyptian Goddess Ma'at. The film is produced by SandStone Global and co-produced by BBC SELECT. It is produced and directed by Claire Whalley.
Nature and Us: A History through Art (3 x 60') – Watch Trailer
Art historian James Fox tells the story of our ever-changing relationship with nature through the lens of some of the world's most extraordinary artworks.
With the threat of climate change ever present, James argues that art can offer powerful evidence of human attitudes to the natural world throughout our history – from prehistoric cave art, to Assyrian sculptures, Zen gardens and romantic painting. Each tells us not only what we have thought about nature but what we have felt about it too. Tracing a unique journey through history, culture and nature, James shows how the art of the past can perhaps offer lessons for our future on this planet. The three-part series is a What Larks Production produced by Keo Films in association with BBC Studios. Executive producer is Claire Whalley, series producer and director is Alex Brisland and series director is Ben Harding.
Nature and Us: A History through Art just launched in the UK with the Radio Times calling it a "glorious series" and The Sunday Times saying: "James Fox is a master at finding ways to shed light on the human condition via our artistic instincts."
BBC SELECT's robust offering explores everything from history and travel to art and science documentaries plus curated monthly collections. For November, The Climate Collection also includes the recent acclaimed docuseries from presenter, Paralympic medalist and journalist Ade Adepitan, Climate Change: Ade on the Frontline, as well as The Last Igloo, Meat: A Threat to Our Planet, Drowning in Plastic and Australia on Fire: Climate Emergency?.
BBC SELECT is available on Amazon Prime Video Channels and the Apple TV app at a monthly subscription of $4.99 (U.S.) and $6.99 (Canada).
For further information, please contact:
BBC Studios
+1917 376 4170
BBC Studios
+1646 404 0941
Watch Now – Online Press Screening Room
https://app.shift.io/spotlight/985ff1c4-6957-4bb4-b892-63c785462292
Password: BBCSelect21
Download Photos
https://bbcw.box.com/s/hdanfrt5yhekjrk6hicd96xv36sg8ikj
About BBC SELECT
BBC SELECT, launched in February 2021 in the U.S. and Canada, is an ad-free, streaming service offering an antidote to the predictable – all-new, premiere documentaries across culture, politics and ideas – an area of significant expertise for the BBC.  Available on Amazon Prime Video Channels and the Apple TV app, BBC SELECT is owned and run by BBC Studios – a global creator, producer and distributor of unparalleled British content globally.
Follow us on Twitter: @BBCStudiosUSPR | BBC Studios Press Room