October 12, 2022
 ACORN TV PARTNER AGAIN WITH ZDF FOR FAN FAVORITE DRAMA, THE CHELSEA DETECTIVE, AS PRODUCTION ON SEASON TWO BEGINS
Lead Adrian Scarborough is joined by new co-star Vanessa Emme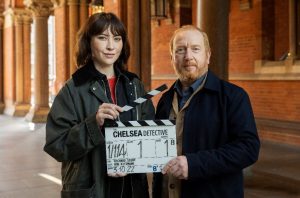 New York, NY, October 12, 2022 – AMC Networks' Acorn TV and ZDF today announced a second season order from Expectation and start of production for the hit UK mystery drama series, The Chelsea Detective, returning in 2023. With production now underway in and around London, Adrian Scarborough (Killing Eve, The King's Speech, 1917) returns as Detective Inspector Max Arnold alongside new co-lead Vanessa Emme (Dublin Murders, Three Families) as the sharp, diligent Detective Sergeant Layla Walsh.
The second season of the 4 x 90-minute series brings new cases for Detective Inspector Max Arnold (Scarborough) and the team to investigate as Detective Sergeant Layla Walsh (Emme) joins Chelsea CID from Exeter. Layla isn't wide eyed or naïve about life in London, but she is an outsider and will occasionally roll her eyes at the worst excesses of Chelsea. She loves her job and brings a direct "let's go!" energy to the team. Layla speaks her mind and isn't afraid to be forthright in her questioning – be that questioning a person of interest or questioning how the team investigate their cases.
Adrian Scarborough commented: "It's great to be back, returning to my role as DI Arnold. Max and the team are resuming investigations in Chelsea with new stories set to intrigue and entertain. It's also my great pleasure to welcome Vanessa Emme to the station. She's a terrific addition to our cast and it's a joy to be working alongside her."
Vanessa Emme added: "I've always been a huge fan of crime drama – the guessing games, the mind mapping enveloped in great characters and strong storylines, so I am thrilled to be here and to be playing Layla. Straight-talking with a zero-tolerance policy for nonsense, she is already bringing me so much joy. I have been welcomed with open arms by an incredibly talented team led by the artfully sublime Adrian Scarborough. I adore working with him."
DI Max Arnold will be confronted with four new mysteries this season. Ashley, Jess, Connor and Astrid return with Olivia to take us into the glossy, stylish world of Chelsea and the darkness that lies beneath. In season two, the team delve into the art world, luxury retirement living, rowing, psychotherapy, tailoring and dating.
Created and executive produced by Emmy® Award-winning Peter Fincham (The Lost Prince, Smack the Pony, I'm Alan Partridge), the four feature-length episodes are written by Glen Laker (Vera, Prime Suspect), Peter Fincham, Liz Lake (Riviera, Call the Midwife) and Laura Poliakoff (Devils). The series producer is Ella Kelly (Death in Paradise, Midsomer Murders). The directors are Richard Signy (Death in Paradise, Silent Witness) and Sarah Esdaile (Call the Midwife).
The Chelsea Detective is produced by Acorn TV's Acorn Media Enterprises, Germany's ZDF and BBC Studios' invested indie Expectation. Acorn TV, AMC Networks' acclaimed and fast-growing streaming service devoted to British and international mystery and dramas, serves as the exclusive home for the series in the U.S., Canada, the United Kingdom, Australia and New Zealand, among others. BBC Studios distributes the series internationally and will be introducing the show to international buyers this month for the first time at MIPCOM 2022.
About Acorn TV
AMC Networks' Acorn TV is North America's largest streaming service specializing in premium British and international television. Acorn TV adds exclusive programming every week to a deep library of revered mysteries, dramas, and comedies – all commercial-free. Acorn TV's recent slate is comprised of critically acclaimed commissioned and original series including popular New Zealand detective series My Life Is Murder (Lucy Lawless), acclaimed Irish crime thriller Bloodlands (James Nesbitt, co-executive produced by Jed Mercurio), British crime drama Whitstable Pearl (Kerry Godliman), Emmy®-nominated Queens of Mystery, Kiwi romantic comedy Under the Vines and British detective drama Dalgliesh (Bertie Carvel), to name a few. Current and upcoming Acorn TV Original Series include UK detective drama Harry Wild (Jane Seymour), Signora Volpe (Emilia Fox), The Chelsea Detective (Adrian Scarborough), Darby and Joan (Bryan Brown, Greta Scacchi) and many more. The above add to a growing catalog of popular bingeable dramas including Agatha Raisin (Ashley Jensen), A Place to Call Home, Jack Irish (Guy Pearce), Doc Martin (Martin Clunes), Deadwater Fell (David Tennant, Cush Jumbo), all 22 seasons of fan-favorite Midsomer Murders, highly-rated drama The Nest, and groundbreaking period drama A Suitable Boy, among others.
"glorious streaming service… an essential must-have" – The Hollywood Reporter
"Netflix for the Anglophile" – NPR
Acorn TV is available for $6.99/month or $69.99/year. Facebook: OfficialAcornTV – Twitter: @AcornTV – Instagram: @Acorn_tv
About ZDF
ZDF (Zweites Deutsches Fernsehen) is Germany's national public television broadcaster. It is run as an independent non-profit corporation under the authority of the Länder, the sixteen states that constitute the Federal Republic of Germany.
The nationwide channel ZDF has been broadcasting since 1st April 1963 and remains one of the country's leading sources of information. Today, ZDF also operates the two thematic channels ZDFneo and ZDFinfo. In partnership with other public broadcasters, ZDF jointly operates the internet-only offer funk, the German channels PHOENIX and KiKA, and the European channels 3sat and ARTE.
https://www.zdf.de/zdfunternehmen/factsandfigures-100.html
About BBC Studios
BBC Studios is a commercial subsidiary of the BBC Group with profits (EBITDA) of £226 million on sales of £1.6bn (21/22). Able to take an idea seamlessly from thought to screen and beyond, its activities span content financing, development, production, sales, branded services, and ancillaries across both its own productions, and programmes and formats made by high-quality UK independents, with three-quarters of its revenues from non-BBC customers including Discovery, Apple and Netflix.  Around 2,400 hours of award-winning British programmes made by the business are internationally recognised across a broad range of genres and specialisms, with brands like Strictly Come Dancing/Dancing with the Stars, Top Gear, Bluey and Doctor Who. BBC.com, BBC Studios' global digital news platform, has 139 million unique browser visits each month.
BBC Studios | Website | Press Office | Twitter | LinkedIn | Instagram |
About Expectation
Expectation launched in February 2017 as a multi-genre, independent production company covering both scripted and non-scripted programming. Led by Peter Fincham and Tim Hincks, Expectation has built an enviable reputation for creating new drama, factual drama, factual, comedy and entertainment programming as well as breaking new and diverse talent and winning multiple awards for its shows. Among these shows are Clarkson's Farm and The Grand Tour for Prime Video, The Big Narstie Show (with Dice Productions), The Lateish Show with Mo Gilligan (with Momo G) and Steph's Packed Lunch (in partnership with Can Can Productions) for Channel 4, Unforgivable for Dave, This is MY House for BBC One and crime drama The Chelsea Detective for Acorn TV.  The team have produced three multi-award-winning series: Alma's Not Normal for BBC Two, In My Skin for BBC Three, as well as dark comedy drama Guilt (with Happy Tramp) for BBC Two and BBC Scotland. They have also produced two series of international hit, Intelligence for Sky Comedy and are currently in production on Bridget Christie's new comedy for Channel 4, The Change.