February 16, 2023
ACCLAIMED BBC NEWS DOCUMENTARIES SHEDDING LIGHT ON THE UKRAINE WAR AND VLADIMIR PUTIN TO PREMIERE IN THE U.S. TODAY
"Mariupol: The People's Story", "Putin vs the West" and "Ukraine: The People's Fight" Available to Stream on BBC Select Beginning February 16
NEW YORK – FEBRUARY 16, 2023—BBC Select today announced that three anticipated BBC News documentaries will premiere in the United States for the first time on the streaming service. "Mariupol: The People's Story", "Putin vs the West" and "Ukraine: The People's Fight" will premiere on February 16, days before the one-year mark of the start of the current Russia / Ukraine conflict.
BBC Select is available to audiences in the U.S. and Canada via Amazon Prime Video Channels, the Apple TV app and The Roku Channel.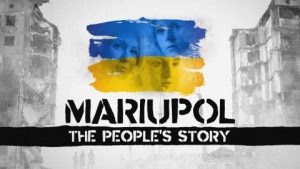 "Mariupol: The People's Story" 
Told and filmed by the people of Mariupol, this is the deeply personal story of the destruction of a modern Ukrainian city. The film follows residents as they film themselves from the start of the Russian invasion to the devastation of their city two months later.
Those featured lived through the horror of war recording what was happening around them after most international journalists had left. It is a story of war crimes and suffering but also a story of amazing courage, incredible daring in escape and of undaunted spirit.
Mariupol is a symbol of what has happened to Ukraine. It was a city of 430,000 people and over the course of two months the people living there endured almost constant bombardment. Ukrainian officials estimate more than 25,000 of its inhabitants were killed.
"Mariupol: The People's Story" follows residents as they sought safe-haven in the town's theatre, treated victims from the bombed maternity hospital and lived in underground bunkers beneath the Azovstal Steel Works.
The feature documentary was directed by BAFTA, Emmy, and Peabody award winner Robin Barnwell, and produced by multi-award winner Hilary Andersson.
Please view the trailer here.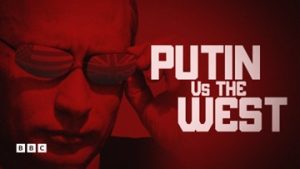 "Putin vs the West"
A three-part series from award-winning film-maker Norma Percy, "Putin vs the West" tells the inside story of how, through a decade of clashes, the West has struggled to deal with Vladimir Putin as he tries to exert his power on the world stage.
The first episode takes us to 2014, as Europe's will was put to the test when Putin first attacked Ukraine and seized the Crimean Peninsula.
Told by the Presidents and Prime Ministers who have traded blows with him – including David Cameron, Francois Hollande, and Ukraine's then President Petro Poroshenko – Western leaders recall being bitterly divided over how to handle Putin after deadly clashes during the Maidan protests in Kyiv, the shooting down of Malaysian Airlines flight MH17 and his decision to send troops into Crimea.
The key players inside the room tell the story of the critical summits and fraught phone calls as the West is blindsided by Putin's land-grab, and how he pressed home his advantage when he saw division in the West.
Please view the trailer here.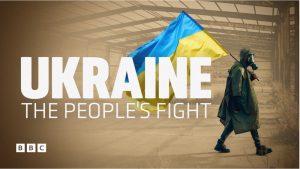 "Ukraine: The People's Fight"
Filmmaker Olly Lambert spends two months on Ukraine's southern front, gaining unique and privileged access to a group of volunteer special forces on the frontline as they begin the push to retake Kherson that would ultimately change the course of the war.
The film follows "Hummer," an experienced military commander who now finds himself a chaperone to completely inexperienced forces on the frontline. By meeting and living with a range of armed forces, and often under fire, Lambert sees the highs and lows as these new recruits prove increasingly effective in pushing back Russian forces.
But it comes at a cost, particularly when Hummer learns that one of these inexperienced new recruits is his younger brother.
The documentary was directed by filmmaker Olly Lambert who has won over a dozen awards, including an Emmy and two BAFTAs, for his work in areas of conflict and executive produced by multi-award winner Mike Radford.
-ends-
Follow @BBCSelect on Twitter, Instagram, Facebook, and YouTube.
For More News from BBC Studios: @BBCStudiosUSPR | BBC Studios Press Room
About BBC SELECT 
BBC Select, launched in February 2021 in the U.S. and Canada, is an ad-free streaming service that offers critically acclaimed documentaries from the BBC and beyond. Available on Amazon Prime Video Channels, The Roku Channel, and the Apple TV app, BBC Select is owned and operated by BBC Studios – creator, producer and distributor of unparalleled British content globally.
About BBC Studios
BBC Studios is a commercial subsidiary of the BBC Group with profits (EBITDA) of £226 million on sales of £1.6bn (21/22). Able to take an idea seamlessly from thought to screen and beyond, its activities span content financing, development, production, sales, branded services, and ancillaries across both its own productions, and programmes and formats made by high-quality UK independents, with three-quarters of its revenues from non-BBC customers including Discovery, Apple and Netflix.  Around 2,400 hours of award-winning British programmes made by the business are internationally recognised across a broad range of genres and specialisms, with brands like Strictly Come Dancing/Dancing with the Stars, Top Gear, Bluey and Doctor Who. BBC.com, BBC Studios' global digital news platform, has 139 million unique browser visits each month.