October 24, 2023
Planet Earth III a roaring success with international buyers
        Landmark Natural History series secures a raft of international pre-sales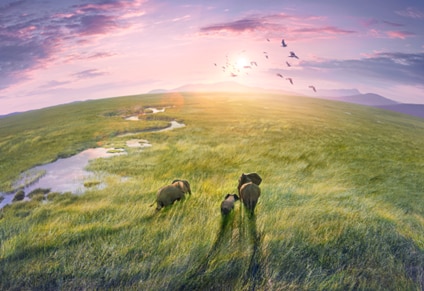 Tuesday October 17th 2023
Today at MIPCOM 2023, BBC Studios has announced international pre-sales of the third instalment of its Natural History Unit's landmark BAFTA award-winning series, Planet Earth, presented by Sir David Attenborough.
The eight-part series produced by BBC Studios' world-renowned Natural History Unit and co-produced by BBC America, ZDF and France Télévisions in partnership with The Open University has sold to; Spain (Movistar Plus+), Italy (Mediaset), Czech Republic (Czech TV), Sweden (SVT), Denmark (DR) and Belgium (VRT). In Japan the show is a co-production in association with NHK. In China, the show has been acquired by Shanghai Media Group for their linear channel and by streaming platforms including Youku, Tencent Video, iQiyi, Bilibili and China Mobile's Migu Video.
Planet Earth III will also be available on the BBC Nordic channel, and on the BBC Earth channel in: Asia, Canada, Croatia, Greece, Hungary, Romania, Macedonia, MENA, Poland Slovenia, Spain, South Africa and Turkey. Viewers will also get to enjoy the series on  Sony BBC Earth in India,  BBC Earth SVOD in Taiwan and BBC Player in Singapore, Malaysia and Taiwan.
Unrivalled in scale and ambition, this new series combines the awe and wonder of Planet Earth, the new science and discoveries of Blue Planet II and Planet Earth II, and the immersive character-led storytelling of Dynasties, taking the Planet Earth experience to new heights. It will take audiences to stunning new landscapes, showcase jaw-dropping newly discovered behaviors, and follow the intense struggles of some of our planet's most amazing animals.
Each blue-chip episode showcases the planet's last great wild places and features the astonishing strategies that animals have evolved to survive there. Alongside those engaging animal characters, this contemporary chapter of Planet Earth also reveals the new challenges that wildlife face in our modern, crowded world.
At this crucial time in our history, Planet Earth III brings a new and important insight into our increasingly fragile world. Highlighting the critical role each of these wilderness areas and the animals that inhabit them, play in sustaining a healthy planet for all of us, whilst retaining the sense of awe, beauty, and the warm accessible tone of its predecessors.
The Executive Producer is Mike Gunton and the Series Producer is Matt Brandon. The commissioning editor is Jack Bootle, Senior Head of Commissioning, Specialist Factual.
Two-time Oscar winner Hans Zimmer, producer Russell Emanuel from Zimmer's long term collaborators Bleeding Finger Music, and Bastille's Dan Smith have partnered across the Planet Earth III series score.
Other titles from the BBC Studios Natural History Unit presented to buyers at Mipcom include two new definitive series. Mammals, co-produced by France Televisions, ZDF and BBC America, offers fascinating insights into one of the most remarkable groups of animals in the world with exclusive never-seen before behaviors encountered; whereas Big Little Journeys, co-produced by PBS, magnifies the dramatic adventures faced by six of the world's tiniest heroes of the animal kingdom.
Nick Percy, President, Global Markets, BBC Studios said: " The Planet Earth series has a whole accolade of awards behind it including four Emmy's, a BAFTA and Oscar winning composer, Hans Zimmer. At BBC Studios, we strive to deliver phenomenal television, and this latest instalment of Planet Earth iii is just that. I am delighted to see, from the pre-sales of the series, that it is taking the international markets by storm."
BBC Studios will be located at P0.E1 within the Palais des Festivals Verrière section at the market.
-Ends-
NOTES TO EDITORS
About BBC Studios
BBC Studios is a commercial subsidiary of the BBC Group with sales of £2.1 billion (2021/22: £1,630 million). Able to take an idea seamlessly from thought to screen and beyond, the business is built on two operating areas: the global Content Studio, which produces, invests and distributes content globally and Channels & Streaming, with BBC branded channels, services and joint ventures in the UK and internationally. Around 2,500 hours of award-winning British programmes are made by the business every year, with over 80% of total BBC Studios revenues coming from non-BBC customers including Discovery, Apple and Netflix.  Its content is internationally recognised across a broad range of genres and specialisms, with brands like Strictly Come Dancing/Dancing with the Stars, Top Gear, the Planet series, Bluey and Doctor Who. BBC.com is BBC Studios' global digital news platform, offering up-to-the-minute international news, in-depth analysis and features.
BBC Studios | Website | Press Office | Twitter | LinkedIn | Instagram |