April 28, 2022
NATIONAL GEOGRAPHIC'S FAN-FAVORITE AND 
EMMY® AWARD-WINNING FRANCHISE, LIFE BELOW ZERO,  
EXPANDS WITH ALL-NEW SERIES, LIFE BELOW ZERO: FIRST ALASKANS, PREMIERING MONDAY, MAY 30 AT 8/7c WITH BACK-TO-BACK EPISODES BEFORE NEW EPISODES BEGIN AIRING EVERY TUESDAY AT 8/7c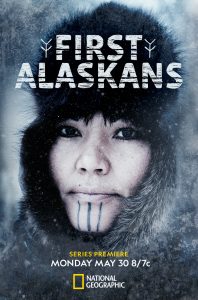 Produced by BBC Studios Los Angeles Productions, Series Follows Indigenous Alaska Natives Facing Modern Challenges and Striving to Preserve Their Heritage and Traditional Ways of Life in a Rapidly Changing Environment 
Production Partnered With Indigenous Organizations to Educate the Crew on Documenting These Powerful Stories and Prioritized a Diverse and Inclusive Team Behind the Scenes    
(Washington D.C. – April 28, 2022) National Geographic's fan-favorite franchise LIFE BELOW ZERO has given viewers unprecedented access to the hardships that come with living in some of the most extreme conditions on Earth. Now, the Emmy Award-winning team is bringing audiences back to Alaska, following the Native peoples of the harsh landscape in the all-new series LIFE BELOW ZERO: FIRST ALASKANS, which premieres May 30, 2022 at 8/7c with back-to-back episodes on National Geographic. After its Memorial Day premiere, the series will air weekly on Tuesdays at 8/7c, beginning on Tuesday, May 31. Viewers will be given the unique opportunity to enter a world that Indigenous Alaskans have inhabited for thousands of years, but one which is rapidly changing every day.  
LIFE BELOW ZERO: FIRST ALASKANS follows new Alaska Natives as they use sophisticated techniques and methods passed down from generation to generation to thrive in some of the most brutal environments. Indigenous Alaskans walk in two worlds: one of traditional ways and one of 21st-century challenges. Jody Potts-Joseph and family live off the land on the Yukon River. Marvin Agnot's days are dictated by the tides. The Apassingok family lives from what the Bering Sea provides. Joel Jacko and family live a life of self-reliance. Steven Strassburg teaches his seven children ancient methods of survival.  
"To witness the strength, resilience and ingenuity of the Alaska Natives as they fight to preserve their threatened ways of life, doubling down on generational knowledge to ensure its survival for the next thousand years, is truly humbling," Joe Litzinger, executive producer. "We are so honored to have been invited to capture some of our Alaska Natives' daily lives and traditions and celebrate, honor and collaborate with the Indigenous peoples of Alaska." 
LIFE BELOW ZERO: FIRST ALASKANS is the first nonfiction series on the network with a cast of Alaska Natives at its focus, as the crew and cameras are granted access into a whole new world of storytelling, cultures and customs. The series not only features Indigenous peoples on camera but also prioritizes diversity within the production and is partnering with a variety of cultural consultants and language translators to help bring these incredible stories to light in each episode. Production has collaborated with Native graphic designers, musicians, storytellers, camera people, producers and post professionals to create a cohesive and authentic feel that highlights multiple rich and historic cultures. 
LIFE BELOW ZERO: FIRST ALASKANS marks the latest expansion of the long-term production partnership on the LIFE BELOW ZERO franchise between National Geographic and BBC Studios' Los Angeles production arm. Joseph Litzinger executive produces the series. For BBC Studios LA Productions, Krystal Whitney is vice president of current programming, and Valerie Bruce is general manager. For National Geographic, Kevin Tao Mohs is executive producer, and Alan Eyres is senior vice president of production and development. Since its debut, LIFE BELOW ZERO has filmed more than 200 episodes and has earned seven Emmy Awards. 
Meet the Alaska Natives:  
JODY POTTS-JOSEPH  
Raised in Eagle Village, Jody Potts-Joseph is Han Gwich'in. Jody is a mother of two sons and one daughter. She and her children are climate warriors advocating for stronger climate policies to protect the lands that have provided for their people for millennia. Jody recently married Jamey Joseph, a respected Iraqi veteran and father to two sons, who is Koyukon and Gwich'in Athabascan. The Han Gwich'in tribe is matrilineal, and Jody is a strong and innate leader. This season, Jody works to provide for her family and their food security in a climate that changes year to year. 
THE APASSINGOK FAMILY  
The Apassingok family lives in the remote village of Gambell. The village is extremely isolated, and residents live a true subsistence lifestyle, relying upon the Bering Sea as the main resource for their diet. This Yup'ik community often works together to provide for the entire village. This season, the Apassinok family takes to the Bering Sea to find food, and Daniel, Chris and Chase will construct a garage, a long-desired structure to protect their vehicles from the brutal weather conditions. 
 THE JACKO FAMILY  
Joel and Jacqueline Jacko live with their 5-year-old daughter, Anzlie, in Pedro Bay, a small village on the northeastern tip of Iliamna Lake. Raised in Chignik, Alaska, Joel is Athabascan. Jacqueline is originally from Washington state and moved to Pedro Bay after meeting Joel while on vacation in Alaska. Together, they first fostered and later adopted Anzlie, who comes from Yup'ik roots. The Jacko family aims to live a 100% sustainable life, subsisting from the land and waters around them. This season, Joel teaches Anzlie the subsistence skills he was taught by his own father, and the family works together on building projects and the never-ending Alaskan task of gathering firewood. 
MARVIN AGNOT  
Alutiiq Alaskan Marvin Agnot lives in the village of Akhiok, the most remote and isolated village on the southern archipelago of Kodiak Island. Life is by the tides in Akhiok, and Marvin travels the bays and channels to find food. Marvin has no children of his own but many nieces and nephews in the village. His niece, Marcella, is married to Glyn, who moved to remote Akhiok from Los Angeles. Marvin has been a teacher and friend to Glyn, showing Glyn the subsistence lifestyle Marvin's father taught him. This season, Marvin harvests food, and he and Glyn will build a greenhouse for the community of Akhiok.  
STEVEN STRASSBURG  
Steven "Tig" Strassburg lives along the Koyukuk River in the interior of Alaska, calling the village of Allakaket home. He and his partner Louise have seven children ranging in ages from 14 years to 5 months old. Steven is Koyukon Athabascan with a lineage that dates back to the Southfork Caribou people. Steven and his family live a subsistence lifestyle, and he firmly believes that it is his responsibility to teach his children the traditions of their ancestors and how to thrive off the land. This season, Steven is focused on teaching his children the cultural traditions of their ancestors and passing down the necessary skills required to live a subsistence lifestyle off the land.  
Episodes Include:  
Of the Land 
Premieres Monday, May 30 at 8/7c 
On the lands of their ancestors, Alaska Natives carry on their traditions in a rapidly changing environment. Jody Potts-Joseph relies on the land to provide food, water and warmth for her family. The Apassingnok family takes any opportunity to gather food from the Bering Sea. Joel Jacko builds a cache to protect his winter food supply from the local bears. And Marvin Agnot relies on the tides to gather food for the people of his remote village. 
Sea of Ice 
Premieres Monday, May 30 at 9/8c 
In Alaska, Native peoples have long secured resources from the land and sea for their survival. The Apassingoks take to the Bering Sea, searching for marine animals to feed their village. Jody Potts-Joseph and her son Denali traverse the mountains to hunt for caribou. The Jackos teach their daughter her first lessons in hunting. And Marvin Agnot takes his nephew Glyn on a hunt for ptarmigan. 
Tough Country 
Premieres Tuesday, May 31 at 8/7c 
Alaska Natives persevere through the harsh elements to carry forth their ancient culture. Steven Strassburg and Louise Moses teach their kids how to harvest the arctic lands. The Apassingoks build a garage to protect their vehicles from the Bering Sea winds. Jody Potts-Joseph harvests trees to build a woodshed. And Joel Jacko traverses land and sea to access his father's trapping cabin. 
In Perfect Balance 
Premieres Tuesday, June 7 at 8/7c 
During an extremely harsh winter, the Indigenous Peoples of Alaska work hard to endure. Marvin collects sea urchins during a minus tide. Daniel and Chase search for driftwood along the coast to provide heat for their new garage. Jody combats the severe winter weather in order to complete her daily chores. And Tig and Louise are on the hunt for a bull moose to fill their freezer and feed their family. 
Cold Catch 
Premieres Tuesday, June 14 at 8/7c 
Alaska Natives know that their land always provides. Tig Strassburg teaches his three young daughters how to ice fish. Chris Apassingok traverses the tundra on a quest to feed his family. Jody Pott-Joseph breaks an emergency trail with her dog team. And Marvin Agnot sources much-needed wood for his community. 
The Lone Wolf  
Premieres Tuesday, June 21 at 8/7c 
Winter presents both challenges and opportunities for Alaska's Indigenous Peoples. Daniel and Chris Apassingok scour St. Lawrence Island for any food source. Joel Jacko encounters a predator near his homestead. Jody Potts-Joseph sets traps in hopes of sourcing warm fur for the winter. And Tig Strassburg and Louise Moses set out on the hunt for small game. 
Sign of Good Luck 
Premieres Tuesday, June 28 at 8/7c 
Changing weather patterns and animal migrations challenge the survival of those who live off the land. Jody Potts-Joseph turns to the Yukon River to fill her freezer with burbot. Tig Strassburg and his sons set out to provide food for the elders. Daniel and Chase Apassingok scour the Bering Sea for walrus. Joel Jacko searches for moose. And Marvin Agnot builds a community greenhouse. 
It Takes a Village 
Premieres Tuesday, July 5 at 8/7c 
Alaska's Indigenous Peoples rely upon the lessons and values of their ancestors to harvest resources for their families and neighbors.